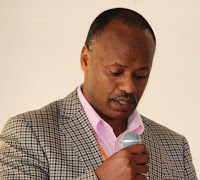 KENYA: 'Annual International Writers' Conference, a Beacon of Opportunity to Upcoming Scholars' – CUEA Gaba Campus Director
AMECEA NEWS
September 22, 2017,
The International Annual Writers' Conference organized by AMECEA Gaba Publication-CUEA Press presents a great opportunity to upcoming scholar as well as striving to tackle issues of the contemporary society.
According to Dr. Simon Kang'ethe, the Executive Director the Catholic University of Eastern Africa (CUEA) Gaba Campus, this is the place where scholars get the opportunity to sharpen their skills.
Dr. Kang'ethe, who spoke at the opening of the three-day Conference in Eldoret town, on 19 September, book writing, continued academic paper dissertation and participation in academic conferences forms personality and character of a scholar.
"Through the writer's conference now in its seventh year a biblical number for perfection and I want to congratulate AMECEA Gaba publications in partnership with Moi University to have reached this year of Grace," he said adding that the publication has become a stable bridge of knowledge between the Catholic University of Eastern Africa (CUEA) and the world of scholars.
He said, "It is for that account that the conference is of great assistance for scholars to realize their dream and to be able to ascend the ladder of promotion. I am informed that most of the papers from the presenters of last year's conference are published in Africa African Ecclesiastical Review – AFER."
Dr. Kang'ethe explained that the conference promised a deep intellectual input because it was being attended by a good number of Professors and Doctors who were to present their papers.
He added, "When people attend Solemn Masses, they usually talk of how many bishops and priests attended the mass as an expression of the intensity of the solemnity; similarly, in academic forum such as this, the participation of such a noted number of highly learned academicians is likely going to take us through intensive triduum of academic growth."
On the relevance of the theme, Wealth Creation and Responsible Stewardship for sustainable Development in Africa, Dr. Kang'ethe explained that the African nations are facing troubling climate and wealth mismanagement, multiple and illegal ways of wealth creation, human trafficking, prostitutions, existence of secret occults – the illuminati just among others, and was therefore envisaged that it would engage scholars in an enriching debate with a hope towards providing relevant pastoral, theological, logical and social solutions for the people in Africa
~End~
By Pamela Adinda, AMECEA Online News