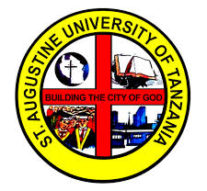 TANZANIA: SAUT Campus Director appointed New Attorney General
AMECEA NEWS
February 2, 2018,
The Director of St Augustine University of Tanzania, (SAUT) Arusha Campus, Dr Adelartus Kilangi on 2nd, February, 2018 was appointed by the President of Tanzania His Excellency Dr. John Pombe Magufuli to be the New Attorney General.
In a statement given by Chief Secretary Mr John Kijazi, Dr. Kilangi who will be sworn in on 3rd, February ,2018 takes over from George Masaju who has been appointed a judge of the high Court.
Dr. Kilangi worked as the Dean of the Faculty of the School of Law at SAUT main Campus in Mwanza prior to his appointment as the Director for SAUT Arusha Campus three years ago.
Speaking with AMECEA Online News from Mwanza Tanzania, the Vice Chancellor of SAUT, Rev Dr. Thadeus Mkamwa said that, the appointment of Dr. Kilangi is an honour not only to SAUT but to the private Universities in the country at large. "His excellency with slogan of industrialization saw that Dr. Kilangi could be one of the best collaborators who could help him realized his vision for the country," he said.
Dr. Mkamwa said that SAUT fraternity is joyful on the fact that Dr. Kilangi was groomed by SAUT Family since the time he was an assistant lecturer, Senior lecturer, the Dean of the School of Law and later as the Director of Arusha Campus.
The VC congratulated Dr. Kilangi for the appointment and challenged other SAUT staff members to imitate the hard working spirit of Dr. Kilangi for the development of the institution and the country.
∽End∽
AMECEA Online Correspondent