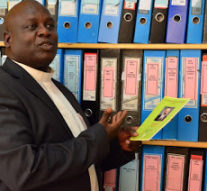 KENYA: Outgoing PMS National Director appointed Regional Coordinator for Agriculture Initiative Program in Africa
AMECEA NEWS
February 2, 2018,
The former National Director for Pontifical Mission Society Rev. Fr. Celestino Bundi has fully taken charge of the agriculture initiative project in Africa.
Fr. Bundi's appointment to establish a fully-fledged office to ensure utilization of the idle Church land in Africa for Agricultural entrepreneurship has been occasioned by the successful pilot program in Kenya since 2014.
Fr. Bundi who is the Project's Regional Director says, through partnership with USA that provides money to support Agriculture for food security, social investors, improve revenue streams and feed the people with quality food affordably, Kenya has become a pilot country for other African countries.
"So far Kenya has nine funded projects at a cost of 32 million kshs, a total of 41 students who have graduated from the Catholic University of Milan through Tangaza University College with Masters in entrepreneurship, 22 students in Baraka Agricultural College in Nakuru Diocese on competence based to give them skills on how to farm, keep animals, improve production and market their products," he said.
Fr. Bundi says that, the initiative is as a result of the address by the Holy Father to the Food and Agricultural Organization (FAO) in 2013 where the Pontiff said that, Africa is very rich with resources and there was need assist them to have a permanent solution to the recurrent famine and drought rather than interventions of the humanitarian response.
He thanked the Kenyan Bishops for cooperation and acceptance to take the risk to implement the initiative which he has since replicated in Malawi, Zambia, and Uganda and is soon rolling out the program in Nigeria and Ghana.
Fr. Bundi who was also the National Executive Secretary for the Kenya Conference of Catholic Bishops (KCCB)-Commission for Missions said the Agriculture Project initiative is meant to reduce food insecurity, improve livelihoods, build capacity and generate income to support Diocesan and Congregational pastoral work with the hope that the support shall provide technical skills and competences for better, effective and efficient management of African land as a factor of production.
Fr. Bundi was appointed by the congregation of evangelization of people as the first African PMS National Director in October 2007 and ten years down the line as he exits office, he has been able to bring together 17 local Fidei Donum priests and 17 priestly expatriate Fidei Donum together to share their experiences, challenges and to motivate one another as they serve in needy dioceses. He also managed to convene meetings for all the superiors of the locally found congregations to share experiences, introduced scholarship for diocesan priests to be prepared to be spiritual directors through the institute of religious formation in Tangaza, besides strengthening lay Catholic missionaries through financial support and companionship and creating office for PMS in every diocese.
"When I came to the office in 2008 the financial support was less that 10m million Ksh., but now we are making a contribution of more than 23 million Kshs. to assist the local church, we have an open mind to support the needy cases like we have done in Ahiti, South Sudan and Somalia all from Kenyan local contribution and the support has also been channelled to Lodwar, Marsabit and Garissa," he said.
Through his leadership, the PMS office has managed to produce guide books for missionary union, guide books for PMC animators, prayer books and posters for animation. Fr. Bundi has also visited all the catechetical colleges, major seminaries and dioceses for missionary awareness.
"We have created a tradition in Kenya whereby in every Diocese there is mass for children with the Bishop. The children have found their place, they can pray, share their faith, they are confirmed, they are encouraged and stay with the bishop the whole day. This is helping in forming missionaries who are going to be greater in spirit and mind," he said.
Fr. Bundi also says that, during his tenure he was able to introduce partnership with PMS Australia to electronically connect libraries of seven seminaries, a system that enable seminaries to share a book with someone in Europe or America through a program called KOHA with the aim of to making seminaries more enriched to become academic giant and accessing books which otherwise they could not afford due to the cost
Meanwhile the incoming PMS National Director Rev. Fr. Boniventure Luchidio appreciated Fr. Bundi for having done a tremendous job, "His work is great, he has opened up the mission, he has actually taken after St. Paul with the journey going to different mission areas, talking about pontifical mission society in different parts of Kenya and abroad," he said
As he takes over, he said that he is coming with a vision to continue from where Fr. Bundi has left and to develop his achievements to a higher level giving it a boost and new dimensions to enhance the entire program.
Fr. Luchidio was presented to the KCCB staff by Kakamega Bishop Obanyi and KCCB General Secretary Very Rev. Fr. Daniel Rono on 31st, January, 2018 during the staff weekly Mass. He said he looks forward to see a faith that is developed and expressed through love, by offering servant leadership.
∽End∽
By Rose Achiego, Waumini Communications Ltd. KCCB