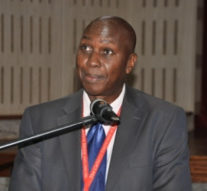 KENYA: "CUEA will not close," Vice Chancellor Responds to media allegations on intended closure of the institution
AMECEA NEWS
February 2, 2018,
The Vice Chancellor of the Catholic University of Eastern Africa CUEA Prof. Justus Mbae has responded to recent media allegations that the university is among the three institutions of higher learning in the country earmarked for closure by the Government of Kenya.
In a press statement sent to media houses on Friday, January 26, 2018, the Vice Chancellor said that the media reports on the alleged closure may have risen from the September 2017 audit of the university by the Commission for University Education (CUE).
He explained that the university was audited by the Commission last year (2017) in January, September and December, revealing that, the first audit was a general quality audit targeting all universities in Kenya and was requested by the Ministry of Education, the September audit was impromptu following reports and complaints received by CUE, while the December audit was for regular re-certification.
In November 2017 during thanksgiving Mass to commemorate the 36th graduation ceremony at the institution, the Chairman of CUEA Council Rt. Rev. Maurice Muhatia Makumba said that huge institutions like CUEA sometimes have to go through certain levels of rebirth, and this can be painful, challenging as well as a cause of problems to other people. He explained that the challenges the biggest learning institution of AMECEA is currently facing do not mean the end of it but rather that the worst for CUEA is now behind it, and a head is a brighter future.
The press statement from Prof. Mbae further indicated that the Catholic University is currently implementing a Turnaround Strategy that involves restructuring and rationalization of its administration staff and other resources aimed at ensuring sound financial operations.
"The University's Board of Trustees (BoT) and Council are actively involved in implementing this turnaround strategy. This includes BoT's approval and direction with regards to bailing out the University to ensure the debt-burden, arising from infrastructural investments is reduced to manageable levels; this is ongoing," the statement said.
Additionally, the university has restructured and rationalized staff numbers to enhance efficiency, productivity and also to improve the quality of services. The staff ratio of teaching to non-teaching at 2:1 has been realized which is consistent with CUE's requirements.
Prof. Mbae in his statement further revealed that from the December 2017 Audit, the Commission did appreciate that "the University has governance structures that are aligned to the Universities Act No. 42 of 2012 Revised Edition 2016 (2015), while according to the September 2017 audit, the Commission did also appreciate that the turnaround strategy was working as they observed a reduction in their debts.
The Vice Chancellor therefore assures all stakeholders that CUEA is doing all that is needed to remain in operation as a chartered University.
~End~
By Pamela Adinda, AMECEA Online News