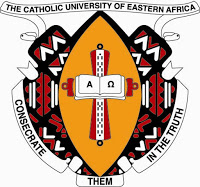 KENYA: CUEA Appoints a Special Adviser to the Vice Chancellor
AMECEA NEWS
February 2, 2018,
As part of the restructuring process to enhance the performance of the university, the Catholic University of Eastern Africa CUEA Council has appointed Mr. James Theuri Kiago as a Special Adviser to the university's Vice Chancellor.
Speaking to AMECEA Online News, AMECEA Secretary General Rev. Fr. Ferdinand Lugonzo who is a member of the University Council said that Mr. Theuri whose mandate began on February 1st comes in with a rich knowledge in Finance and Business. He is charged with the responsibility of coming up with and implementing the Turnaround Strategy for the university.
Mr. Theuri will supervise all the support services at the University, these includes Finance, Estate and Infrastructure, Planning, IT, Human Resource Management and the Supply Chain.
"While introducing Mr. Theuri to the CUEA Management Board, the Chairman of the University Council Rt. Rev. Maurice Muhatia Makumba emphasised the need for the university management board to work together as a team towards the implementation of the University Council Resolutions and ensure that they bring about change that is necessary for the institution," Fr. Lugonzo said.
He explained that this change would include approaching all the operations of CUEA from a business perspective by ensuring that CUEA is able to generate resources for its own sustainability and support its core business which is offering quality education.
Mr. Theuri who until his appointment to CUEA has been the Chief Executive Officer at Custody and Registrars Service Limited holds a Masters Degree in International Marketing from United States International University (USIU). He has had an Advance Management Training at Carl Duisburg Gesselschaft, Cologne, Germany as well as International Marketing from the School of Economics, Schleswig-Holstein, Hamburg, Germany.
He has worked as Head of Business Banking, Head of Institutional Banking, Assistant General Manager and Corporate Business Manager at Commercial Bank of Africa; Pan African Head of Non-Governmental Organizations-Barclays Africa; Corporate Relationship Manager at Barclays Bank Kenya Ltd.; Relationship Officer at Stanbic Bank Kenya Ltd. And Senior Citi Service Representative at Citi Bank NA.
∽End∽
By Pamela Adinda, AMECEA Online News