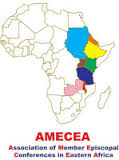 AMECEA: Secretariat Launches 19th AMECEA Plenary Assembly Steering Committee
AMECEA NEWS
February 2, 2018,
AMECEA Secretariat this week launched the steering committee to spearhead preparations for the 19th Plenary Assembly in a meeting that was held at the Secretariat premises in Nairobi, Kenya.
Speaking during the launching of the committee on Wednesday 31, The AMECEA Secretary General, Rev. Fr. Ferdinand Lugonzo said that the setting of the committee was based on the gaps experienced during the 18th Plenary Assembly held four years ago in Malawi, in view of bridging them for the smooth preparation and actual running of the 19th Plenary Assembly.
The committee is comprised of Management Staff and Program Coordinators at the Secretariat and Heads of AMECEA institutions.
The meeting set up sub committees to take responsibility of various aspects of the preparations. These include; Communication and Logistics Committee that will deal with communication with participants as well as itineraries; Content Committee, which will deal with topics to be presented and presenters, Fundraising Committee to deal with financial aspects; Reports Committee which will be dealing with Reports to be presented during the Business session and finally the Documentation Committee that will be dealing with the recording of proceedings and production of the final acts of the Plenary Assembly.
Fr Lugonzo said that more committees will unfolded as times goes on depending with the preparation activities.
The Steering committee will be working hand in hand with main committee of the 19th Plenary Assembly of the hosting conference.
In his closing remarks Fr. Lugonzo asked the members of the Steering Committee to play their due roles to make sure that the plenary becomes a success.
~End~
By AMECEA Online News Reporter