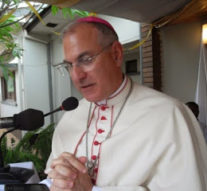 ZAMBIA: Emulate Jesus, The Good Shepherd, Nuncio Urges Bishops
AMECEA NEWS
January 19, 2018,
The Apostolic Nuncio to Zambia and Malawi, H.E. Julio Murat has appealed to Catholic Bishops of Zambia to lead the flock following the example of Jesus, who is the true shepherd.
In his Homily at the Catholic Secretariat in Lusaka on 16th, January, 2018, Archbishop Murat reminded the Bishops that, they are called to be vigilant, compassionate to the poor and to evangelize to the faithful to receive spiritual nourishment as they witness the gospel.
"We are called to follow the good example of the good shepherd, Lord Jesus: to be vigilant, loving, taking care of the flock with generosity and lead them to greener pasture, and also to be compassionate," He said.
The Apostolic Nuncio celebrated mass for the bishops that were holding January Plenary Conference.
∽End∽
By Mwenya Mukuka, ZCCB Communications Officer