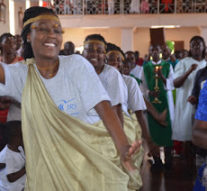 KENYA: KCCB launches documents that presents the teaching, reflections and guidance of Pope Francis on Migrants and Refugees
AMECEA NEWS
January 19, 2018,
KCCB launches documents that presents the teaching, reflections and guidance of Pope Francis on Migrants and Refugees on 14th, January, 2018.
Migrants and Refugees Section which is a small action-oriented Vatican office personally directed by the Holy Father Pope Francis with a mission to ensure that those forced to flee their home countries are not shut out or left behind; invites everyone to join in reflection, prayer, communication and action.
Speaking on 14th, January, 2018, during the occasion of the 104-world day of Migrants and Refugees marked at St. John the Baptist Riruta Parish in the Archdiocese of Nairobi, the KCCB Chairman for Commission for Refugees, Migrants and Seafarers Rt. Rev. Joseph Alessandro said that the tools contain a Message from the Holy Father and twenty action priorities in two versions.
"One is meant for active pastoral engagement with migrants and refugees and the second one expanded presentation for use in advocacy and negotiation with national governments to influence the Global Compacts on Migrants and on Refugees," he said.
Bishop Alessandro said that, from the beginning of Pope Francis' pontificate, using persuasive words and deeds, has encouraged the Church to accompany all people who are forced to flee.
He revealed that, in 2017, The Holy Father established the Migrants and Refugees Section (M&R) to help Him implement this pastoral objective adding that, while the Section forms part of the new Dicastery for Promoting Integral Human Development under the direction of Cardinal Peter Turkson, the Section concerning Migrants and Refugees is guided by the Holy Father in person.
Bishop Alessandro who is the Bishop of Garissa Diocese, Kenya where Dadaab Refugee Camp is situated, said that, the Church encourages all Christians and people of good will to respond personally, communally, practically and spiritually to the needs of asylum seekers, refugees, migrants, and victims of human trafficking.
Entitled "Welcoming, protecting, promoting and integrating migrants and refugees", the 2018 Message encourages every individual and communal responses locally and pastorally to contribute to the processes underway at the international level. The Church is also concerned about the legal and policy frameworks which govern human mobility, with structural causes and long-term change.
The World Refugee day celebration was organised by the Jesuits Refugee Services (JRS) in collaboration with KCCB-Commission for Migrants, Refugees and Sea Farers. The Holy Mass was celebrated by Bishop Alessandro and concelebrated by the Vice Chairman of KCCB-Commission for Migrants Refugees and Sea Farers and the Bishop of Maralal Rt. Rev. Virgilio Pante, KCCB General Secretary Very Rev. Fr. Daniel Rono and the Parish Priest of St. John the Baptist Riruta Rev. Fr. Patrick Ndung'u. In attendance were refugees from various countries, the faithful of Riruta and officials from different organizations supporting the Refugees and Asylum seekers in Kenya.
∽End∽
 By Rose Achiego, Waumini Communications KCCB