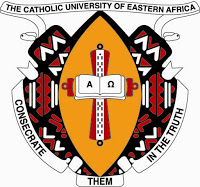 KENYA: CUEA to Hold Youth Chastity Conference
AMECEA NEWS
January 19, 2018,
The Catholic University of Eastern Africa (CUEA) through the Chaplaincy department is organizing Youth Chastity conference for Youth in schools, universities and colleges that will take place on 11th, February, 2018 at the University main Campus in Langata –Nairobi, Kenya.
According to the information posted online, the main purpose of the conference is to reflect with the youth on the question of chastity and careers and to generate ideas from the young people on how to make chastity fashionable among their peers.
"It is also hoped that by popularizing chastity among the youth then it will become a household term in policy and advocacy while responding to the challenges young people face within society," read the statement adding that, the facilitators of the conference will be drawn from international and regional organizations that are supportive of the faith-based approach to life and family.
According to Rev. Dr. Charles Kyalo, the University Chaplain, Chastity as a virtue and a value is indispensable in the formation of young people. "There is not only a link between pre-marital chastity and marital fidelity but also between chastity and careers/vocations. Chastity before marriage enforces chastity within marriage. A chaste disposition helps one focus, give all they can and become the best they can be," read his statement.
The key activities of the conference will include: Talk on the place of chastity in pursuit of a successful career/vocation; Motivational talk on how to envision a bright future/career while enjoying todays' challenges; Talk on how young people can be Value based change agents in the here and now; Career guidance based degree, diploma and certificate programmes (Young people will interact with real professionals), Confessions and the celebration of Holy Mass.
The conference is organized in collaboration with the Archdiocese on Nairobi through the youth coordination office and the Family Office. Other collaborators include the Education office of the Sisters of Mercy Institute and Human Life International.
∽End∽
By AMECEA Online News Reporter