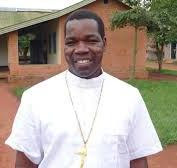 SOUTH SUDAN: SCBC urges South Sudanese to trust revitalization process representatives
AMECEA NEWS
December 15, 2017,
The people of South Sudan need to trust their representatives going for the revitalization of the peace agreement this week. This was said by President of Sudan Catholic Bishops' Conference (SCBC) Rt. Rev. Barani Eduardo Hiboro Kussala who also advised the people's representative to make wise decisions during the consultation process for the sake of peace in the country.
Speaking to CRN on 14th, December, 2017, on his way to Rumbek to ordain two Deacons as priests, Bishop Hiiboro called for political good will in the revitalization process of the peace agreement for people of South Sudan to be able to enjoy peace dividends.
Meanwhile, according to Radio Anisa report, Western Equatoria Region Commissioner of Yambio in Gbudue State Philip Gbambi Samuel appealed to citizens to stop pointing fingers at people living with HIV/AIDS cautioning them to be aware that getting HIV/AIDS is not only during sex, but through using sharp objects and many other ways.
Gbambi urged people living with HIV to keep sharp objects like knives and razorblades away from children stating that there are many people who have lost their lives because of stigma and fear of discrimination in the community.
However, Minister of Agriculture in Gbudue, Mary Samuel Abu John, appreciated residents of the area for the great role they are playing in fighting HIV/AIDS in South Sudan. She appeals to partners to keep supporting awareness, voluntary test and counselling to reduce the rate of the infection in the country.
The speakers made remarks at Yambio Freedom Square during the celebrations to mark World AIDS Day on 12th, December, 2017. The celebrations which are usually marked on 1st of December worldwide were postponed in Gbudue due to busy schedules.
∽End∽
Source: CRN