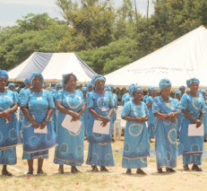 MALAWI: Catholic Women Hold National AGM
AMECEA NEWS
December 15, 2017,
Catholic Women Organisation (CWO) is expected to hold its National Annual General Meeting (AGM) at the Catholic University main campus in Nguludi from 13th to 17th, December 2017. The central theme for the AGM is "Suffering Woman".
In his homily at the opening mass on Thursday 14th, December, 2017, The Chairman of the Episcopal Conference of Malawi (ECM) and the Archbishop of Blantyre Most Rev. Thomas Luke Msusa lauded the women for their unique contributions towards the growth of the Church in Malawi despite their own challenges.
"Women are primary teachers of faith following the model of Mary, Mother of Jesus. The Church is aware of the many suffering women go through. So dear mothers, when you find yourselves in depression because of any form of suffering, turn to God in Prayer as Mother Mary did." He however noted that some women take pride in causing pain and suffering to fellow women.
Archbishop Msusa urged women not to shy away from civil leadership positions. "I urge you our mothers to take up political leadership positions because we trust that you can make constructive contributions to deal with various ills of our society. You are already doing a lot in the church. You can do more than dancing for your male counterparts during political rallies."
Guest Honour at the function, Mrs Edyth Jiya who is group CEO of Old Mutual, called for solidarity among women in dealing with suffering. "In spiritual warfare as well as in the promotion of women's rights we need solidarity. Our activities as Catholic women should be geared towards alleviation of suffering of fellow women,' said Mrs Jiya.
Some of the items on the agenda are the reports from dioceses, CWO constitution, Child Protection Policy and spiritual reflection on how to deal with depression. Dr. Elizabeth Meke, National Chairlady for CWO, expressed hope that delegates will benefit a lot from the gathering. She also thanked CWO-Blantyre for being wonderful hosts.
The opening function was also attended by Bishop Peter Musikuwa, Bishop chairman for Pastoral Commission, Diocesan chaplains for women and many priests and religious sisters.
∽End∽
By Fr. Frank Mwinganyama, Communications Secretary – Archdiocese of Blantyre