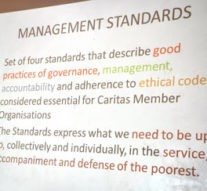 KENYA: National Justice Peace and Caritas Departments Meet to Review the Caritas Internationalis Management Standards
AMECEA NEWS
December 15, 2017,
National Coordinators of Justice Peace and Caritas as well as Health Departments from AMECEA Countries held a meeting in Nairobi Kenya to review the Caritas Internationalis Management Standards. The two-days meeting which began on 14th, December, 2017, has been organized by Caritas AMECEA Zone through AMECEA Justice Peace and Caritas Department.
According to the Acting Coordinator of the AMECEA Justice Peace and Caritas Department Sr. Tabitha Nyawira, the meeting was suggested by Msgr. Francis Ndamira the Director of Caritas Uganda/Caritas AMECEA Zone.
"During the two meetings we have hard last year and this year, we did not have ample time to sit as Caritas AMECEA and review the Caritas Internationalis Management Standards and so, Msgr. Ndamira suggested that we try to create some adequate time so that we can be able to bring representatives from all AMECEA Conferences who work in the social arm of the Church to know especially as Caritas what has been happening in our conferences," Sr. Tabitha explained.
Among the issues deliberated upon included what the Caritas Internationalis Management Standards (CIMS) are and why have them; Caritas reports from Member Countries especially the rolling out of CIMS in the conferences, the successes, challenges, emerging issues and how the conferences are handling such emerging issues. Other matters deliberated upon include the review of AMECEA progress to see how the actors are faring on; where they are, how to speed up the implementation process as well as looking into the challenges if any and how AMECEA or its member countries offer solidarity to other member countries that are not doing well.
Finally, the participants also did a follow up on the resolutions and the declarations of the Caritas Africa Meeting held in Dakar Senegal this year and in a particular way paid special focus to what the declaration meant to them as Caritas AMECEA as well as way forward.
Msgr. Ndamira who is also the Vice President of Caritas Africa thereby representing Caritas Africa at Caritas Internationalis in Rome expressed his joy at having together individuals working at Justice and Peace, Caritas and Health Departments from AMECEA Countries coming together to deliberate on matters that concern effective delivery of services to the people of God within AMECEA Region.
He said that the coming and working together is the wish of AMECEA Bishops as well as being in conformity with the directives of the Holy Father Pope Francis who brought in the Dicastery of four areas of service within the Church, which are Caritas, Justice and Peace, Immigration and Health.
The meeting was attended by 22 participants who included National coordinators of Justice and Peace departments, National Coordinators of Caritas Departments as well as National Coordinators of Health departments from AMECEA Conferences. All the eight conferences of AMECEA were represented including Eritrea where the secretary General of the Bishops Conference attended.
∽End∽
By Pamela Adinda, AMECEA Online News