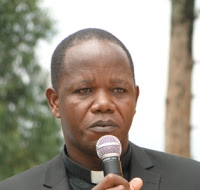 AMECEA Secretary General Calls for more collaboration Among Social Arms of the Church
AMECEA NEWS
December 15, 2017,
AMECEA Secretary General Very Rev. Fr. Ferdinand Lugonzo has called for more collaboration among the social arms of the Church to ensure effectiveness in service delivery. Fr. Lugonzo was addressing the participants of Caritas AMECEA Zone Meeting on the Review of the Caritas Internationalis Management Standards in Nairobi Kenya on 14th, December, 2017.
"When we began this forum we were focusing on Justice and Peace and then Caritas but slowly we are bringing in Health and it is for the mere reason that the Church is calling us to collaborate more and more and create more synergies than working in isolation. So we really appreciate that for some time now Justice Peace and Caritas are sitting together, prioritizing together and focusing into the future together and we welcome health department too."
He encouraged the forum through the coordination of AMECEA Justice Peace and Caritas Office as well as through the office of Msgr. Francis Ndamira who is the Director of AMECEA Caritas Zone as well as Vice President of Caritas Africa Representing Caritas Africa at Caritas Internationalis to fully bring on board Health Department because that is the purpose of the new Dicastery.
"We are all working for the social arm of the Church and the more we sit together and discuss issues together, the more we shall avoid multiplication of projects and activities but rather firm up our synergies and collaborations. As we forge ahead trying to bring in the components that make up the social Ministry of the Church, let us also make our programs and timetables suitable to all these components," Fr. Lugonzo explained adding that if emphasise is made on one aspect then some people might feel excluded thereby losing the relevance of collaboration. He therefore implored the forum to gather issues from all involved and advice accordingly.
∽End∽
By Pamela Adinda, AMECEA Online News