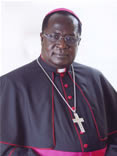 UGANDA: Tororo Archdiocese begins preparations for 2018 Uganda Martyrs Day
AMECEA NEWS
December 8, 2017,
The Archdiocese of Tororo has begun preparations for the 2018 Uganda Martyrs Day (UMD) celebration slated for June 3 at Namugongo Catholic Shrine.
Tororo has so far launched a number of activities in anticipation of a successful celebration. On 12th, November, 20117 the Archdiocese successfully held its second fund-raising drive in Kampala in a bid to raise US$198,029 (an equivalent of 720m Ugandan shillings), which is required for the preparations and actualization of 2018 UMD celebration.
Hundreds of people braved the heavy rain that morning to attend the fund-raising that kicked-off with a Holy Mass led by Most Rev. Emmanuel Obbo, the Archbishop of Tororo Archdiocese. A total of US$ 3,052 (Ushs 10.9m) was raised in cash while $8008 (Ushs 28.6m) in form of pledges.
Prior, the Archdiocese held its first fundraising drive in Tororo on 21st, October, 2017, and collected about $5040 (Ushs 18m) in cash and $1316 (Ushs 4.7m) in pledges. 10 Central Organizing committees have already been set-up at the diocesan level to help in the organization and coordination of the celebrations.
The Archdiocese has also unveiled a theme for the 2018 UMD celebration: "Let Us Walk in the Light of God as a Family" (1 John 1:5-10). The major objective behind this theme is ultimately to focus on the family; that smallest unit of the human society in which the faith of everyone is implanted and in which it grows, drawing from the powerful example of the parents. In addition, the Archdiocese has released a special prayer (novena) dedicated to the Uganda Martyrs. The prayer is intended for the success of the June 3rd celebrations and for the intentions of all the pilgrims who will attend the 2018 celebration.
Tororo Archdiocese will animate the 2018 celebrations on behalf of Tororo Ecclesiastical Province which comprises of the Dioceses of Jinja, Kotido, Moroto, Soroti and Tororo. The 2018 UMD celebration will be held concurrently with the 100 year's celebration of the martyrdom of the two Catechists from Paimol: Blessed Daudi Okello and Blessed Jildo Irwa who were killed in 1918. The two Blessed Martyrs are usually commemorated on 18th, October but they will be remembered in a special way on 3rd, June, 2018.
The annual celebration is usually held in honour of the 22 Catholic Martyrs who were killed on the orders of Mwanga II the Kabaka (King) of Buganda between 1885 and 1887. Twenty-two Catholic Martyrs were beatified on 6th, June, 1920, by Pope Benedict XV, and on 18th, October, 1964, Pope Paul VI canonized them as Saints. In addition to the 22 Catholic Martyrs, there are two Catechists from Paimol: Blessed Daudi Okello and Blessed Jildo Irwa.
The celebration usually brings together millions of pilgrims from across the globe. Tororo last presided over the Martyrs Day celebrations in 1998.
By Jacinta W. Odongo, Media Officer, Uganda Episcopal Conference