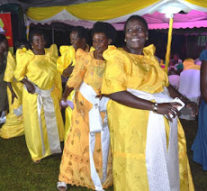 UGANDA: Catholic women hold inaugural fundraising dinner to empower rural women
AMECEA NEWS
November 24, 2017,
n 8th, November, 2017, Catholic women from across Uganda gathered in Kampala for a fundraising dinner towards the economic empowerment of rural women in the country.
The dinner, which was the first of its kind, was organized by the Family Desk under the Lay Apostolate Department of the Uganda Episcopal Conference (UEC) with an aim of accelerating progress towards the economic empowerment of rural women and their needs.
The National Coordinator of the UEC Family Desk, Mrs. Florence Kwesigabo said that rural women are central to the development of rural areas and to national economies however most of them are still struggling.
"Often, rural women are the caregivers who look after children, the elderly, and the whole household in general. Majority of these rural women are small business entrepreneurs who dedicate most of their earnings to the well-being of their families and societies. So we realized as a Family Desk, we need to empower them (rural women) to improve their daily live hood," she said.
The fundraising dinner is one of the strategies that have been introduced by the Family Desk since the launch of the Women Empowerment and Domestic Violence Prevention Campaign (WE-DVPC) programme on March 1, 2017. WE-DVPC proposes an outcome in which women countrywide are free from violence and its associated risks. It stands behind women's equal participation in all aspects of life, focusing on areas: ending violence against women; enhancing women's economic empowerment and increasing women's leadership and participation.
It is a successor programme of the National Domestic Violence Prevention Campaign Programme (NDVPC) which ended in February, 2017.
The new programme is running in all the 19 Catholic Dioceses in Uganda through the national and diocesan structures of the Catholic Church. WE-DVPC programme commenced with the training of programme staff on programme and finance management.
The dinner attracted representatives from the four ecclesiastical provinces who include bishops, diocesan women leaders and corporate figures among others.
∽End∽
By Jacinta W. Odongo, Media Officer, Uganda Episcopal Conference