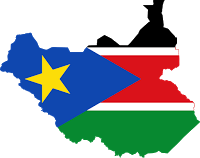 SOUTH SUDAN: Let us reclaim families for a better nation, says Chairman of Sudan Catholic Bishops Conference
AMECEA NEWS
November 24, 2017,
he President of the Sudan Catholic Bishops Conference, (SCBC) Rt. Rev. Eduardo Hiiboro Kussala has called on parents to instill values and reclaim families for a better nation.
Speaking to reporters on 17th, November, 2017 at the end of the ten-day Catholic Bishops plenary in Juba, Bishop Hiiboro said the ongoing conflict in South Sudan has disintegrated and destroyed many families.
Bishop Hiiboro said the South Sudan Bishops believe that, for any society to enjoy peace and stability, the teaching must begin from the family.
He admits that many parents have been separated due to the ongoing conflict and many children can no longer receive get proper care from their parents.
The Catholic prelate therefore calls on families to properly educate their children and teach them values of peace and love so that they can bear good fruits in the society.
He blame many criminal activities that happen in South Sudan on irresponsible and poor upbringing of children due to lack of unity in the family.
Meanwhile a number of Journalists from South Sudan are participating in the Global Investigative Journalism training in Johannesburg, South Africa.
The event which started on 22nd, November, 2017, is to support the global networking on investigative reporting, says Anton Harber, Head of Wits University.
Harber, says the course indicates the importance of international collaboration that, supporting group work has become part of investigative journalism.
"Bringing the course for the first time to Africa is to highlight the interest and the best work of investigative journalism in the continent," Harber stresses.
The Global Investigative Journalism course is the tenth conference in Johannesburg which attracted around 1,200 journalists from 130 countries including South Sudan.
It will hold 150 panels, workshops, and special events, where investigative reporters will share their stories and top secrets in the profession.
∽End∽
Source: CRN