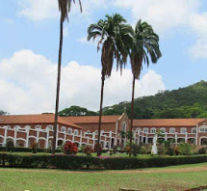 MALAWI: Kachebere Seminary re-opens, Sulpicians to manage operations
AMECEA NEWS
November 24, 2017,
Kachebere Major Seminary, a Philosophical College of the Catholic Church in Malawi has been re-opened after it was temporarily closed for about five months due to lack of formators to form seminarians into future priests.
Episcopal Conference of Malawi (ECM) came to a resolution to close the Seminary and work out on the challenges on 7th, April, 2017 and was re-opened on 2nd, September, 2017.
Making an official announcement to the Press at Kachebere Seminary in Mchinji on Monday, ECM Chairman for Seminaries, Bishop Martin Mtumbuka said the Bishops were concerned with the way the formation of priests was progressing due to a number of challenges hence resolved to find better solutions in addressing the challenges.
"The very purpose of the Seminary is to form Seminarians to be good Priests in future. A Priest is no longer a person of himself, rather he is a person of the Church and Christians. We don't want Priests who are not well formed, "said Bishop Mtumbuka of Karonga Diocese.
He said as a way of addressing the challenges, the Bishops had to think of three plan cycle which were immediate and long-term.
"We first brought in formators from various dioceses to finish up the academic year calendar, send our priests for furthers studies so that when they return, they take up formators' role and finally we engaged the association of Sulpicians to manage the Seminary for a period of five years," he said.
He said the Sulpicians who are experts in formation will come from the neighbouring Zambia and manage the formation process from March next year.
According to Bishop Mtumbuka, the Bishops expect that at the end of their (Sulpicians) five-year tenure, they would have trained local Priests to take up formation role at the Seminary hence move on.
Bishop Mtumbuka who is also the Vice Chairman of ECM challenged Seminarians to be obedient as solders of Christ and work hard in class.
"We the Bishops just want good Priests and that's what should be done. When Christians don't have a Priest, they complain but when given a bad Priest, they cry so we just need good priests," he said.
Speaking at the National Chairman for the Laity Council Dr. Denis Khasu commended the Bishops role in making sure that Malawi has well-formed priests.
He said Priests are crucial in the Catholic Church for they are there to offer Sacraments which cannot be offered by anybody else.
"As Christians and Catholic Church in particular, we dearly need Priests. Priests are crucial in our Christian life and already we have limited number of Priests and we need more of them. We are therefore happy that the Seminary has been re-opened to train more future Priests," said Dr. Khasu.
Kachebere Seminary whose Patron Saint is St. Anthony so far has about 130 Seminarians. After Philosophical Studies at Kachebere Seminary Seminarians go to St. Peter's Senior Seminary in Zomba for Theological Studies.
∽End∽
By Prince Henderson