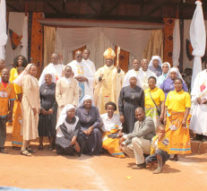 MALAWI: Archbishop Msusa Calls for Protection of Children
AMECEA NEWS
November 24, 2017,
The Catholic Church holds that Children are a gift from God and source of joy to families and society. It is in line with this belief that Archbishop Thomas Msusa of Blantyre called upon leaders in all sectors of life to protect children. He made this call during the celebration of Holy Childhood at Lunzu Parish in Blantyre on Saturday 18th November 2017.
During the Holy Childhood celebration, all kids in the Archdiocese of Blantyre had a special time of prayer and interaction with their Archbishop. All tasks during holy mass were taken by children, including liturgical singing, dancing, bible procession, mass readings and announcements.
In his homily to the Children, Archbishop Msusa remarked that Children can be evangelisers to fellow children if they behave like Christ wherever they are. He added that children can also evangelise to elders giving an example of the call of Jeremiah who was young but was sent to preach to the Israelites. "You can also preach to your parents, teachers and guardians. When it is mealtime remind them to pray for the food; do likewise before retiring to bed. In that way you will be true evangelisers', he said.
In his special remarks, Archbishop Msusa asked for protection of children from physical, psychological and spiritual harm. He ask civil leaders to create good environment for the holistic development of children.
The celebrations went on with children presenting their special gifts like sweets, crisps, jigs to the Archbishop. In return, the Archbishop presented a special gift of a big Rosary which he received from young people of Eritrea. Various performances like poems, songs, dances and recitation of Bible verses spiced up the afternoon. Children were so close and free with the Archbishop as some scrambled for his blessings.
Fr. Francis Tambala, priest in charge of Holy Childhood Ministry under the Pontifical Mission Societies, thanked the Archbishop for his humility to be with the kids. He also thanked all who dedicate their time to teach children Christian values.
One of the parents who escorted kids from Mwanza was very thankful to the Church for giving kids space and time.
∽End∽
By Rev. Fr. Frank Mwinganyama, Communications Secretary Archdiocese of Blantyre