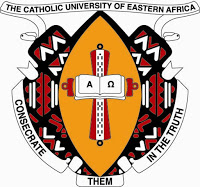 KENYA: Catholic University of Eastern Africa Vice Chancellor Appreciates the Support of the university Council
AMECEA NEWS
November 17, 2017,
The Vice Chancellor of the Catholic University of Eastern Africa (CUEA) Prof. Justus Mbai has applauded the support of the university council members that has seen the institution soar through numerous challenges to a prospective hopeful and prosperous future.
In an interview with AMECEA Online News, Prof. Mbai said that because of the tremendous and overwhelming support from the council members, the university has come up with a turn-around strategy that would ensure it reclaims it former glory.
"We are very hopeful now because the presence of the Council. This council has been extremely supportive and we realized that the challenges the university has been facing are not just ours as CUEA, they are also the Bishops' and they have shown us that they really care about us the workers in the university," Prof Mbai said adding the council has been very sympathetic with the situation and wanted it reversed.
"So they have come and have really given us support, push and direction and this is something that we really appreciate," he elaborated adding that perhaps the previous council because the problem was not that severe, were not challenged in the same way, but the present council members have really gone out of their way.
He further explained that the council has reached out to the university when things seemed to be completely stuck and has managed to get them out of the hole.
He said that despite the fact that a brighter future is in the offing, the challenges have accumulated from a long time therefore the desirable change is not bound to happen overnight but rather will take place slowly by slowly.
The CUEA Council Membership is made up of Bishop representatives from AMECEA Region, the Secretary General of AMECEA and the CUEA Vice Chancellor as well as a number of distinguished experts in Academia, legal and financial arena. Currently that members include:
1) Rev. Maurice Muhatia Makumba – Council Chairman (Bishop of Nakuru-Kenya)
2) Rev. Alick Banda – Vice Chairman (Bishop of Ndola-Zambia)
3) Rev. Abraham Desta (Bishop of Meki-Ethiopia)
4) Rev. Bernadin Mfumbusa (Bishop of Kondoa-Tanzania)
5) Rev. Martin Mtumbuka (Bishop of Karonga-Malawi)
6) Rev. Sabino Ocan Odoki (Bishop of Arua-Uganda)
7) Rev. Maurice A. Crowley (Bishop of Kericho-Kenya)
8) Rev. Menghesteab Tesfamariam, MCCJ (Archbishop of Asmara-Eritrea)
9) Rev. Macram Max Gassis (Bishop Emeritus of El Obeid-Sudan)
10) Apollinaria Elikana Pereka (Tanzania)
11) Peter Ndaa (Kenya)
12) Edward Kirumira (Uganda)
13) Bibiyana Bulaya-Kearns (Zambia)
14) Very Rev. Dr. Ferdinand Lugonzo (Secretary General, AMECEA)
15) Justus Mbae (Vice Chancellor/Secretary to the Council)
~End~
By Pamela Adinda, AMECEA Online News