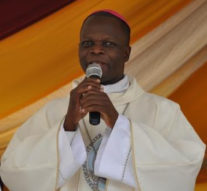 KENYA: Catholic University of Eastern Africa is not dying tomorrow, says chairman of the university Council
AMECEA NEWS
November 17, 2017,
Rt. Rev. Maurice Muhatia Makumba, Chairman of the University Council at Catholic University of Eastern Africa CUEA on Thursday, November 16, said that although the university is currently facing a number of challenges, it does not mean that it has seen its better days.
Speaking during the thanksgiving Eucharistic Celebrations held at the University's Main Campus in Nairobi-Kenya in honour of some 1595 students graduating on Friday November 17 at the 36th graduation ceremony, Bishop Muhatia said that huge institutions like CUEA sometimes have to go through certain levels of rebirth, and this can be painful, challenging as well as a cause of problems to other people.
"With focus on the truth and on wisdom, however painful rebirth may be the end result is going to be good. Now that we are in the month of November, I want to compare this to the experience of purgatory, the experience of the souls that have to go through purifications but leading to eternal life," Bishop Muhatia who is the Local Ordinary for the Diocese of Nakuru in Kenya said during his Homily.
He explained that the Challenges the biggest Learning Institute of AMECEA is currently facing does not mean the end of it but rather that the worst for CUEA is now behind it, and a head is a brighter future.
"My dear brothers and sisters, institutions like this are sometimes kept afloat by its gallant sons and daughters and CUEA is not short of gallant sons and daughters. From the experience I have with this institution in the last three years, I can attest to you that CUEA is not in short supply when it comes to gallant sons and daughters. And it is because of the existence of these people that the future of CUEA is bright," he held.
Bishop Muhatia explained that solutions to CUEA's problems should not be sought out from elsewhere but rather from within.
"The solutions begin with me, I am part of the rebirth of this great institution, therefore let us move together as a family of CUEA as a family of AMECEA so that with our togetherness we all may be consecrated in the truth. People who are Consecrated in truth are men and women who are not swallowed in desperation. They are not people who are going to call each other name because they have problems, neither are they going to assassinate each other's character because of challenges but rather are inspired by wisdom, which is intelligent, holy, unique, refined, invulnerable, loving and steadfast.
According to Bishop Muhatia, the qualities fore-listed already exists among CUEA and the greater AMECEA Community and that there is only need to pull all of them together and soldier towards a brighter future without being distracted by the little elements that are already in the past.
"The rebirth of an institution like this requires a belief and the confidence of those who make part of it. I belief in CUEA do you?" he challenged CUEA and AMECEA family.
∽End∽
By Pamela Adinda, AMECEA Online News