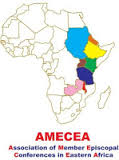 KENYA: Cardinal Berhaneyesus, Archbishop Odama and Bishop Kasonde Join Kenyans in Mourning Bishop Korir
AMECEA NEWS
November 3, 2017,
His Eminence Berhaneyesus Cardinal Souraphiel, Chairman of AMECEA and Metropolitan Archbishop of Addis Ababa Ethiopia has expressed sadness and shock at the demise of the Catholic Bishop of Eldoret Kenya Rt. Rev. Cornelius Arap Korir who passed on in the night of October 29 at his house in Eldoret.
In an email sent to KCCB and copied to AMECEA Secretary General, Cardinal Berhaneyesus said, "The whole AMECEA Executive Board was hosted by him in Eldoret from October 18 – 21, 2017. We were all kindly invited by him for supper into his residence where, together with the priests, sisters, lay persons, he showed us great welcome and hospitality. We celebrated the Golden Jubilee of API together in the morning of October 21st and, in the afternoon, he himself showed us the Cathedral and the Secretariat Offices of the Diocese of Eldoret."
On Behalf of AMECEA and the Catholic Bishops Conference of Ethiopia, and on his own behalf, Cardinal Berhaneyesus sent his condolences to Kenya Conference of Catholic Bishops, the Diocese of Eldoret, AMECEA Pastoral Institute-CUEA Gaba Campus, and to Dialogue Reference Group (DRG) as well as to all those who knew and worked with the late Bishop Korir.
In a separate occasion Most Rev. John Baptist Odama, Chairman of Uganda Episcopal Conference and Archbishop of Gulu Uganda also expressed shock and great sadness at the demise of Bishop Korir.
Speaking at AMECEA Secretariat in Nairobi on Monday October 30th on his way to Eritrea, Archbishop Odama paid glowing tribute to the late Bishop Korir.
"Cornelius was a great man, a man of peace, he will be remembered as a great worker of peace. A man who was himself peaceful and he wanted the rest of humanity to be peaceful. He played a big role in mediation, reconciliation, and promotion of building peace for which he will be remembered," Archbishop Odama said in an interview with AMECEA Online News adding that, may the legacy of the late Bishop Korir be picked up by all those who knew him and who worked with him and who experienced his livelihood and that spirit of brotherhood and sisterhood among peoples.
"He never saw people as enemies but rather as brothers and sisters. And this is why he worked very hard to bring that in the relationship of reconciliations and through mediation. May God rest his soul in eternal peace. We shall miss him but we shall remember him always," he added.
Meanwhile AMECEA Bishop Chairman for Social Communications Department Rt. Rev. Charles Kasonde, Bishop of Solwezi, Zambia also expressed great shock and sadness at the sudden death of Bishop Korir whom he described as a humble and great man of God.
"I am privileged to have met him last week. Little did I know that the warm reception he offered us at his lovely home and residence was a farewell to all of us as representatives of the AMECEA Region. I will truly miss him and I mourn his passing on. May the Soul of Bishop Korir rest inpeace," Bishop Kasonde said.
∽End∽
By Pamela Adinda, AMECEA Online News