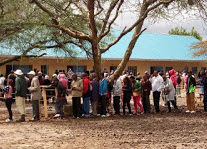 KENYA: AMECEA Election Monitoring Team Recommends More Time for the Exercise
AMECEA NEWS
November 3, 2017,
The election monitoring team drawn from AMECEA Countries under the umbrella of AMECEA Justice Peace and Caritas Department has recommended that more time be allocated to the exercise prior to the election date to enable thorough and conclusive participation in the exercise that would eventually lead to the mission observers being able to determine the reality on the ground.
According to the acting coordinator of AMECEA Justice Peace and Caritas Department Sr. Tabitha Nyawira, ASN, the observation mission should not just be about the Election Day, being the date people cast their ballots up until when the results are announced but the entire electioneering process for it to be more conclusive.
The Mission observers participated in the last Kenyan Presidential Election rerun which saw the incumbent President Uhuru Kenyatta emerging the winner. According to Sr. Nyawira, despite the low voter turnout, the process was fairly smooth with minimal cases of failure of the voter identification machines as compared to the August general elections.
She said that the mission observers were very grateful for the opportunity given to them by AMECEA as it enabled them to
witness the real situation on the ground rather than rely on information relayed by the media. She said that the whole observer mission was a vital learning process to the team who work in the Justice and Peace commission of their respective conferences.
The AMECEA Observer mission team worked with the Catholic Justice and Peace Commission of the Kenyan conference of Catholic Bishops and were drawn from Uganda, Malawi, and South Sudan. They were joined by the AMECEA Justice Peace and Caritas as well as Pastoral Departments staff. The mission team were distributed across Kenya covering Mombasa, Nairobi, Isiolo and Kiambu Counties.
Once again  the department of AMECEA Justice Peace and Caritas expressed gratitude to the United States Conference of Catholic Bishops (USCCB), Catholic Relief Services (CRS) and Catholic Agency for Overseas Development (CAFOD) for providing the resources for different activities of the department that have allowed this mission to take place.
∽End∽
By Pamela Adinda, AMECEA Online News