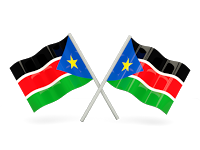 SOUTH SUDAN: South Sudan and Sudan to Reopen Border Trade Routes
AMECEA NEWS
October 6, 2017,
The minister of trade has confirmed that he met his counterpart in Khartoum to discuss on the possibility of reopening of Sudan and South Sudan border trade routes to tighten the trade operations of the two countries.
Moses Hussein Tiel met the national chamber of commerce, trade union officials and journalists on Wednesday to update them on the success of his discussion in Sudan. Bakhita Radio reported.
Hussein said, one of issues agreed upon was the reopening of the River Nile trade route.
Simon Akuei Deng, Secretary General of South Sudan Chamber of commerce expressed excitement about the move taken by the ministry revealing that, Nile is the cheapest and safest means of transporting and important goods between the two countries.
The deputy chairperson of the chamber of commerce added that, buying goods from Sudan is cheaper than in Uganda or Kenya.
All officials pleaded to the government to speed up bilateral agreements between the sisterly countries for the benefit of the two nations.
Meanwhile the German ambassador to Juba has reiterated his government's commitment to support peace and development initiatives in South Sudan.
Speaking to diplomats and participants while commemorating German Unity Day on Monday in Juba, Jan Hendrik Van Thiel said the two countries have a long historic tie even before South Sudan gained its independence.
Ambassador Hendrik encouraged the warring parties to bring about peace in the country to enable other developmental projects to progress.
"I can reassure you that Germany will stand at your side to continue to supporting any genuine endeavour and efforts to reach the development goals" Hendrik said.
Germany and Japan are the only two countries who fund the ongoing National Dialogue.
∽End∽
Source: CRN