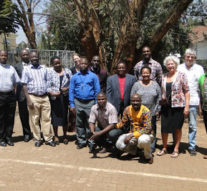 KENYA: Stem Van Afrika holds Evaluation Workshop on Audience Research
AMECEA NEWS
October 6, 2017,
One of the objectives of Stem Van Afrika (SvA) is to help building sustainability in community media in Africa. In 2014, the foundation started a training measure on building local capacity for community oriented radio stations on audience research. So far Uganda where the program was piloted and Malawi together with some non-Catholic Community Radio stations in Kenya have so far benefited.
It was on this pretext that the foundation in collaboration with CAMECO and Kenya Community Media Network (KCOMNET) organized a two-day evaluation workshop in Nairobi between 5th and 6th October, on audience research which attracted participants from Uganda, Malawi and Kenya.
"It is important not to leave when a project is implemented but to also to look further into the results and find ways of disseminating the knowledge and experiences gained from that first part of the project. This ensures that the objectives are well executed and that progressive measures are taken into considerations," explained Mr. Pieter de Wit from Stem Van Afrika.
According to Ms. Petra Stammen from CAMECO, the training on audience research program piloted in Uganda in 2014 was necessitated when CAMECO and Stem Van Afrika discovered that most of the community oriented radio stations in Africa don't know their audiences and have never done any research or whatever on the topic.
"Actually some of them do not even have an idea that audience research ought to be done. So we started with Uganda having partnered was Communications Secretary for the Catholic Bishop's Conference, Rev. Fr. Philip Odii.
A total number of twelve radio stations, both Catholic and non-Catholic were identified and participated in the training workshop, which had a three-step straining measure. The three steps included the On-site workshop which lasted for ten days and where at the end of which the radio stations were coming up with some designs for the research to implement back. The second step was a three-months implementation stage where the radio stations were supposed to do the actual audience research.
"Finally, after the three months we had a second workshop where we brought them again together to share their experiences, difficulties as well as their results," she said adding that after Uganda, the program was replicated in Malawi last year following the same structure.
"The intention has been that this could be a kind of pilot program which could be replicated among other AMECEA Countries. This workshop we are having now is somehow an assessment of what has been done but also to find out the needs still faced by the community radio stations. It could be at the level of the station or on national level or on regional level," Petra explained.
Any plans to incorporate more AMECEA Countries in the program is currently on hold though will be considered in the near future.
"As the board of Stem Van Africa we decide to first concentrate on the stations we started to work with to ensure that the program is a success before going to other countries." She explained.
According to Pieter, audience research is not only about knowing your audience but also involving your audience, recognizing their importance and letting them know that you are interested in them, and care about what they think about your programs and what their wishes are; it is about involving people in the community media.
∽End∽
By Pamela Adinda, AMECEA Online News