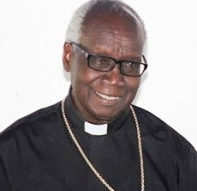 SOUTH SUDAN: Catholic Bishops should renew their commitment in Caritas work, says Bishop
AMECEA NEWS
September 22, 2017,
ishops should renew their commitment and work more closely with laity to implement Caritas work, says President of Caritas in South Sudan.
Speaking on 22nd, September, 2017 in Juba after attending   a meeting of heads of Caritas in Africa and Caritas International, Rt. Rev. Erkolano Ladu Tombe noted that, the absence of bishops in Caritas activities is one of the challenges facing the performance and service delivery, encouraging bishops and heads of dioceses to be more involved.
Bishop Ladu also explained that the laity have a great role in the evangelization in the Catholic Church calling on the lay faithful to also get involved in Caritas work to build the kingdom of God on earth.
The South Sudanese Caritas' President reiterated to his fellow bishops to be seriously involved and to be available in the work of charity as they do also in other pastoral work in their respective dioceses.
Source: CRN