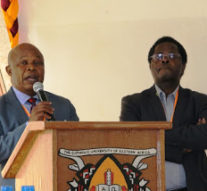 KENYA: AMECEA Gaba Publications-CUEA Press lauded as unique and vital Church Organ in Africa
AMECEA NEWS
September 22, 2017,
The winner of this year's Bestseller Author Award 2017 organized by AMECEA Gaba Publications-CUEA Press Rev. Prof Francis Anekwe Oborji, Professor of Missiology in Rome has termed the publishing house as an important organ of the Church in Africa, vital in promoting the upcoming young scholars.
In his acceptance speech read on his behalf by Rev. Dr. Emmanuel Chinedu Anagwo from the Catholic Institute of West Africa Port Harcourt, Nigeria, Rev. Prof. Anekwe said that there is need to accompany the growth of Christianity in Africa with Theological Research and Publications by Africans for African Context and this cannot be achieved without our own publishing houses like the AMECEA Gaba Publications CUEA Press.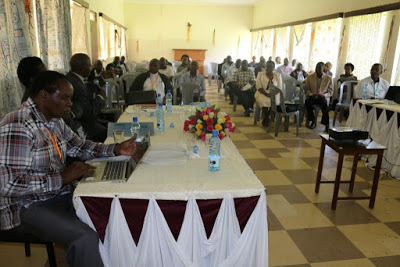 "In Africa, we are privileged to have AMECEA Gaba Publications which, since its inception has been in the forefront of promoting young African authors by publishing their work, especially in areas of inculturation and pastoral evangelization. I urge them not to relent in this effort," he said.
He added that the work of AMECEA Gaba Publications is unique in the whole continent and that Africa today needs more houses of publications like the AMECEA Gaba Publication in all the regions and dioceses if possible.
The event which took place at Gaba Campus of Catholic University of Eastern Africa (CUEA) based in Eldoret Town in Kenya during this year's International Writers Conference from 19th -21st September, was the second time AMECEA Gaba Publication-CUEA Press was honoring its bestselling authors.
"For every publishing house authors of books are the key partners, therefore for AMECEA Gaba publications CUEA Press, the relationship between the publisher and the author does not end with the publication of the manuscript into a book, but extends into other activities that come after the book is published namely marketing and publicizing the book. Therefore, our authors are basically our major partners for whom we shall always be very grateful," said Rev. Dr. Patrick Tawale, the Director of CUEA Press.
Rev. Dr. Tawale explained that the three key reasons why they honor the authors include the fact that a good bestselling book is not an easy matter, since it captures the author's excellence in creativity, originality and courage to place his or her ideas on market place of knowledge. Secondly it is because books published are meant to be read not to be piled up in book stores. Therefore, an author whose work is able to leave the shelves as soon as they are published creates more space for others to be kept therefore, contributing to the growth of knowledge and information. Finally, the honored bestsellers have managed to make remarkable sales from their publications and therefore have not only marketed themselves and their work but the marketed the publishers as well.
During the event, AMECEA Gaba Publication, CUEA Press awarded the following individuals: Rev. Prof Francis Anekwe Oborji Author of Towards a Christian Theology of African Religion: Issue of Interpretation and Mission, Rev. Fr. Michael Rop who published the book titled Ethnic Violence in Africa: A Christian Moral Response published in 2016 and Rev. Fr. Benjamin Kiriswa author of the book Pastoral Counselling: An integrated Model Revised Edition published in 2015.
By Pamela Adinda, AMECEA Online News