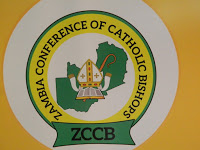 ZAMBIA: ZCCB Concerned with Martenal Death Rate in the Country
AMECEA NEWS
September 15, 2017,
Zambia Conference of Catholic Bishops (ZCCB) is concerned with maternal deaths that continues to become the main cause of loss of lives to mothers even after accessing medical services especially during prenatal and post-natal times in the country.
ZCCB Director for Communications Fr. Wilfred Kunda has since appealed to the Ministry of Health to consider investigating all cases of maternal deaths that have gone unreported or even receive a hashtag in the media.
Fr. Kunda has said this in wake of a Zambian Journalist dying after giving birth.
Fr. Kunda said the development is the right opportunity for the government to address the many challenges that expectant mothers face as they give life.
The ZCCB Director for Communications further told journalists that, the incident should be a wakeup call to take serious interest in investigating and reporting community issues besides politics and entertainment.
"This should propel journalists not only to report speeches from the powers that be, but also give a voice to those that receive services such as health and how it is offered to them," he said.
Fr. Kunda says Catholic Media Services (CMS) of the Zambia Conference of Catholic Bishops (ZCCB) is deeply saddened and grieved with the death of Zambia Daily Mail Journalist Sithembile Siwawa Zulu adding that, it is a great loss to the media fraternity in Zambia.
"We at Catholic Media Services mourn the loss of Sithembile Siwawa Zulu who once worked at our radio station Yatsani radio now Radio Maria Yatsani Voice.  We send our heartfelt condolences to the grieved husband and family for this great loss of a young life," he said.
This death sparked debate on health services in the country especially on maternal health prompting the government to institute investigations into what led to her death after giving birth.
 By Mwenya Mukuka, ZCCB Communications Officer