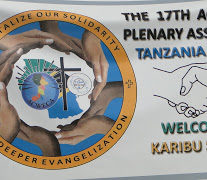 TANZANIA: Religious Women urged to live in solidarity with marginalized, oppressed
AMECEA NEWS
August 30, 2017,
Religious women have been urged to announce the Gospel to the marginalized people and those who are being intimidated mostly serving the People of South Sudan.
This call was made by Sister Yudith Pereira Rico, (RJM) who presented a paper on her experience of working the project of Solidarity with South Sudan.
Sister Pereira said that Religious Women need to extend their wings of service ready to work with other congregations to see the needs of marginalized and oppressed people especially in countries where there is war like South Sudan.
"It is not easy to work with people outside our congregation but we, who work with a project of Solidarity with South Sudan live together and work with oppressed people. We come from different congregations but we are able to accomplish our mission of having solidarity with people of South Sudan.
She said living community life outside one's own congregation or with members of other congregation is enriching, challenging and humbling. But the challenge she said was to bring the best out of each other and to be forgiving when things go wrong. She said this calls for sensitivity to the diversity of cultures, without judging what is right and wrong, and it demands patience, humility and charity.
She called on Sisters to come together and work for people who are really in need. "It is good to see how people live with war challenges, so that we know their needs and really live our vocation," she continued.
She said they have experienced working with South Sudanese who suffer in violence, whose dignity is not valued, they have no shelter and children have no food including their basic needs.
"We need you sisters within ACWECA to join hands to help the marginalized people," the Spanish born religious nun said, adding that the people need the service of religious for physical, spiritual and psychological healing.
"Communion and encounter between different charisms and vocations can open up a path of hope. No one contributes to the future in isolation, by his or her efforts alone, but by seeing himself or herself as part of a true communion," insisted Sr. Rico.
She urged the sisters to reflect on what is happening in South Sudan and come up with solutions of how to help the homeless people there. "What can Sisters do so as to bring new hope to them?" she asked.
"The battle between good and evil is always raging and the battleground is the human heart." We cannot deny the presence of evil in our world especially the evil of violence and war and the evil of hunger and starvation.
Having companions with whom you can think out loud, ask questions of God, doubt without being judged, is a blessing when one is surrounded by and/or confronted with evil.
Meanwhile Sr. Gemma Simmonds, a member of the Congregation of Jesus who presented a paper at the Plenary Assembly told AMECEA correspondent that, it was time for sisters to preach the living gospel through their lives.
"Being a sister is more than just working in the hospital, in school etc. It is about touching the lives of those who are in need and telling them the value of a sister by our service," Sr Simmonds who is a teacher by profession said.
"If we don't serve people and answer their questions, they may loose a test of our service. We need real to transform ourselves and extend our service to the marginalized and oppressed," she insisted
∼End∼
Sarah Pelaji, TEC