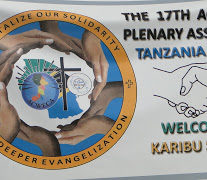 TANZANIA: Hilton Foundation Challenges Religious Women in Africa to envision their future amid the changing contemporary world
AMECEA NEWS
August 30, 2017,
Sr. Jane Wakahiu, LSOSF, PhD, the Interim Director of Catholic Sisters Program an initiative of the Conrad N. Hilton Foundation (CNHF) has told the religious sisters in Africa to look deeply and ask themselves what their congregations and conferences would look like in 2030 owing to the reality of declining number of religious vocations in the West.
Sr. Jane who was addressing the participants of the 17th Plenary Assembly of Association of Consecrated Women in Eastern and Central Africa said that there are pertinent theories that Africa will follow the same trend as in West.
"As we discuss about sustainable development goals this is a pertinent question, are religious congregations in Africa preparing for decline or for growth? We need to pause, to be attentive and to ask, what can we learn from the west? It is a reality that calls us to discern and envision methods we are using to recruit support and retain members," she said.
Sr. Jane reiterated the fact that we are living in a global world, where the inter-connectivity of information, communication and technology are influencing every aspect of human experience, including religious life in deeply profound ways.
"As religious, we are called upon to stretch and develop new perspectives and new modes of thinking to compete in this increasingly globalized reality," she said adding that women entering religious life today are directly influenced by these changes and more often than not well informed in the use of social media.
Among the suggestions she enumerated that needs to be prioritize include the need to develop a comprehensive database on the ministerial distribution of Catholic sisters' which can be important in building a field of study and an understanding of how to support and strengthen sisters; needs to support initial and continuing formation including sabbatical programs to renew sisters, to be strong evangelizers and sustain quality of life of sisters; need to adequately remunerate sisters to reduce resource constraints and need for ongoing capacity and skills building especially among indigenous congregations.
In addition there is also need to develop local expertise to respond to emerging ministerial needs including education, health, social and pastoral services as well as need for continuation of leadership development to strengthen congregations and strengthen their human resources and internal planning systems.
She pointed out that Pope Francis eloquently and beautifully called on the religious while inaugurating the year of consecrated life; "I count on you to "wake up the world." She said that the religious are doing so through standing for and being present to those at the periphery, by faithfully living their charisms.
"Our vocation and life is a blessing, a communion and a gift from God. We are called not for ourselves but for the world. Together we are missioned by Christ to " bring the good news to the poor, to announce release to the prisoners and recovery of sight to the blind, to set oppressed people free and proclaim the Lords year of favor" Lk. 4:18." This calls for the spirit of "Ubuntu" described by Bishop Desmond Tutu, 'my humanity is bound up in yours, for we can only be human together." We are not alone in this journey if only we keep our eyes focused onto Jesus who called us
She said that globally there are over 121 million children out of school of these 55m are in Africa, Sr. Jane challenged religious sisters to think of the 55m out of school and how these children can be supported. She also added that there is need to address the problem of early marriages and the plight of these young girls who are forced in a life of misery. Supporting these girls translates to reducing poverty by providing them with opportunities for development.
∼End∼
By Pamela Adinda, AMECEA Social Communications