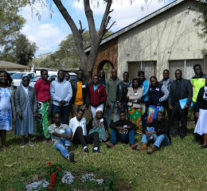 ZAMBIA: Youth meet for consultation on the 2018 youth synod.
AMECEA NEWS
August 25, 2017,
A consultative Youth workshop on the forth coming Synod on youth has been held in Zambia.
Speaking during the workshop held from 20st to 22nd August, 2017 at the Salesian Fathers' facility in Lusaka's Bauleni area, Zambia Conference of Catholic Bishops (ZCCB) National Youth Coordinator Sr. Chanda Nsofwa said that, the Church through the synod is determined to empower the youth to announce the joy of the Gospel to the others throughout the world.
Sr. Nsofwa also said that, the Church desires to journey with the youth in evangelisation, a reason why such a workshop has been held adding thatthe young people can therefore be consulted and have an input into the Synod of Youth.
She mentioned that the results from young people's discussions and answers to the provided questionnaire will later on be material for the working document for the Youth Synod 2018.
Sr. Nsofwa revealed that, the 15th general assembly of Bishops which has been announced by Pope Francis wants to embrace all the youth including non-Catholics whom the Holy Father has said also have a role to play in the reflections
"In this regard among the 20 youth participants in this meeting there is one non-Catholic, who belongs to one of the Pentecostal Churches," she said.
Pope Francis has dedicated the 15th Ordinary General Assembly of the Synod of Bishops to be focused on the theme of "Young People, the Faith, and Vocational Discernment."
It will be held in Rome in October 2018 under the theme Synod 2018 On Young People, The Faith, And Vocational Discernment.
"The theme, an expression of the pastoral care of the Church for the young, is consistent with the results of the recent Synod assemblies on the family and with the content of the post-Synodal apostolic exhortation Amoris Laetitia. Its aim is to accompany the young on their existential journey to maturity so that, through a process of discernment, they discover their plan for life and realize it with joy, opening up to the encounter with God and with human beings, and actively participating in the edification of the Church and of society," Pope Francis noted.
The workshop attracted 20 participants from various dioceses and the National Movement for Catholic Youth Students.
~End~