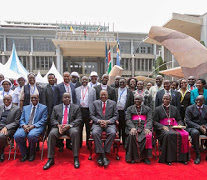 KENYA: Catholic Bishops assures Church sponsored schools unwavering support
AMECEA NEWS
August 25, 2017,
The Kenya Conference of Catholic Bishops (KCCB) has reaffirmed its unwavering support to the Catholic Sponsored schools throughout the country.
Speaking during the opening of the fourth annual Conference of Catholic Schools Principal's Association (CASPA – KENYA) in Nairobi, the chairman of KCCB and Bishop of Homabay Rt. Rev. Philip Anyolo said he particularly appreciates the fact that the school principals have deliberately chosen to be inspired by the Gospel of Jesus Christ in moulding and mentoring the youth entrusted to them by God.
"In 2016 conference, you chose the theme, "Encountering Jesus Christ the Compassionate Teacher" thus challenging yourselves to ensure that young people experience modern life in a Christ -like perspective through your compassionate care and modelling. This I believe is the journey you have persistently and passionately made in the last one year," he said.
He explained that, it is that kind of resolve that will consolidate the Principals' capacity to live and be instruments of peace, integrity and high moral standards in and out of their institutions and that the Catholic Bishops assures them of prayers and support.
According to the National Executive Secretary for KCCB Commission for Education and Religious
Education Ms. Agusta Muthigani, over 1000 Principals from all the dioceses in Kenya attended the three-days conference held from 22nd – 24th August 2017 at the Catholic University of Eastern Africa (CUEA) in Langata, Nairobi.
Agusta explained that the main purpose of the conference was to enhance the principals capacity as institutional leaders in order to be more responsive to the contemporary needs of young people and the entire school community and that the selected topics for the conference speak to that purpose.
"Our second purpose is to reflect on the tenancy of integrity and make personal commitments not only to act with integrity but also to create institutional environments that promotes integrity in all our dealings. This is supported by the theme of our conference – A Catholic School, a hub of Integrity, based on Psalms 101:2 'I act with integrity of heart within my house.'"
She added that, the third purpose of the conference was to further strengthen their bond as principals in Catholic Schools in order to support and learn from each other for improved service delivery in all catholic sponsored schools which was to be achieved through the formal and informal interactions during the conference.
Speaking at the same conference, CUEA Vice Chancellor, Prof. Justus Mbae challenged the
school principals to make the institutions they head become models and centres of excellence in values.
"The theme chosen for the conference "A Catholic School, a Hub of Integrity" was very appropriate, very relevant and is exactly what Kenya needs," he said adding that the country need integrity now more than ever.
"Integrity is about values, morality, ethics and virtues. I actually think if integrity cannot be found in a Catholic institution then it cannot be found anywhere else. This is because by our very own definition of who we are, if a Catholic institution lacks these then either it has ceased to be a Catholic institution or it is not going in the right direction and therefore needs to be steered back." Mbae said.
This year's conference was graced by two guests from outside Kenya, Mrs. Ann Baker who is the deputy director of Catholic Institute of Education in South Africa and Rev. Dr. Lucian Arinaitwe, the National Executive Education Secretary for Uganda Episcopal Conference.
H.E. Most Rev. Charles Daniel Balvo, the Apostolic Nuncio to Kenya and South Sudan, Rt. Rev. Maurice Muhatia Makumba, Chairman of Eduction Commission at KCCB and Bishop of Nakuru Diocese, Prof. Justus Mbae, Vice Chancellor of Catholic University of Eastern Africa as well as Very Rev. Daniel Rono, General Secretary KCCB were also present during the conference.
~End~
By Pamela Adinda, AMECEA Online News