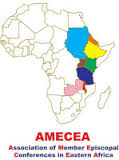 ZAMBIA: AMECEA Trains Zambia in Web Development
AMECEA NEWS
July 28, 2017,
The Association of Member Episcopal Conferences in Eastern Africa (AMECEA) has trained diocesan ICT officers in website development and management in Zambia.
The workshop held from 24th , July, 2017 – 26th, July, 2017 at Faith and Encounter Canter (FENZA) which is a Missionaries of Africa operated facility in Lusaka drew participants from seven of the eleven Dioceses in Zambia.
Addressing participants, Zambia Conference of Catholic Bishops (ZCCB) Secretary General Very Rev. Fr. Cleophas Lungu said that, the church in Zambia intends to increase evangelization through a national movement that will embrace the use of Information and Communications Technology (ICT).
Lungu noted that, ICT is a very important medium of communication that should be utilized by the church in her evangelisation ministry.
Expressing his gratitude to AMECEA for organising an ICT workshop for the Church in Zambia, Fr. Lungu challenged the participants to create websites for their dioceses and create linkages to each of them and to the national ZCCB website.
Alluding to Fr. Lungu sentiments and echoing the AMECEA Bishops' plenary resolution to use ICT in new evangelisation, the Zambia Conference of Catholic Bishops (ZCCB) National Pastoral Coordinator Fr. Justin Matepa said deeper evangelisation cannot be attained without the use of Information Communication Technology.
∽End∽