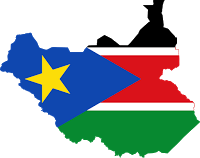 SOUTH SUDAN: Archbishop Lukudu opens Caritas Internationalis offices in Juba
AMECEA NEWS
July 28, 2017,
The Catholic Archbishop of Juba on Monday opened two offices of Caritas Internationalis in Juba. One office for Emergency Support Team Leader and the second for Humanitarian Monitoring and Evaluation.
Addressing Caritas South Sudan staff members, Archbishop Paulino Lukudu Loro encouraged the team to take their work seriously and to exercise confidence while delivering their services to the people of the world's youngest nation.
Moast Rev. Lukudu urged the staff members to be enthusiastic and to put more efforts as they discharge their duties for the betterment of South Sudanese adding that at the moment the Church is taking an active role in delivering services to the people.
Expressing his gratitude while blessing the offices, Archbishop Lukudu who recently returned from Rome, Italy, disclosed that, Vatican authorities have big plans for South Sudan.
Meanwhile, speaking on Tuesday during the National Day of the Arab Republic of Egypt, South Sudanese Minister of General Education Deng Hoc Mai revealed that, the Egyptian government is committed to operate three technical schools fully equipped with personnel in Wau, Juba and Uror for three years.
Deng said the Alexandria University branch in Tonj and the technical schools are Egyptian kind gesture to boost the education sector in South Sudan.
Speaking at the same function, Egyptian Ambassador to South Sudan Ayman Elgammal confirmed that, his government will support the reunion of the SPLM and the renewing of peace agreement as he called for deployment of the Regional Protection Forces in South Sudan.
∽End∽
Source CRN