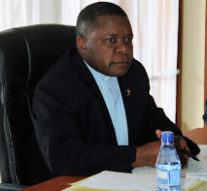 MALAWI: CCJP challenged to be the voice for the Voiceless
AMECEA NEWS
July 28, 2017,
National and Diocesan Secretaries for Catholic Commission for Justice and Peace (CCJP) have been encouraged to continue playing an advocacy and governance role especially to the voiceless including the unborn children, the oppressed and marginalized people.
Speaking at the Catholic Secretariat in Lilongwe on Tuesday during the opening of a one day meeting for the CCJP Secretaries, the Secretary General of the Episcopal Conference of Malawi (ECM), Rev. Fr. Henry Saindi said that, through unity of purpose, team work and coordination as CCJP family the team has achieved a lot urging them to continue the collaboration.
Fr. Saindi advised CCJP secretaries to plan on how to coordinate their elections, how to mobilize resources for the same, to revive CCJP grassroots structures for effective and efficient sensitization programmes for the rural masses and to consider working as a consortium in approaching prospective partners.
"We are proud of the success achieved so far but we also faced and we continue to face a number of challenges and we now need to explore new ways of doing our work," he said urging the secretaries to plan well for the next General Elections slated for 2019.
Fr. Saindi also took the opportunity to bid farewell to the National CCJP Secretary, Martin Chiphwanya who is leaving for further studies abroad commending him for major strides and achievements that CCJP has made during his tenure.
"Martin, you had passion for your job and CCJP will greatly miss you. Please, continue being the voice for the voiceless wherever you may be. On behalf of ECM, I wish you all the best as you take up the new challenge back in the classroom as a student! Best wishes! We have no doubt that you will succeed!" he said.
Meanwhile, Chiphwanya who replaced Chris Chisoni in 2015 said: "the studies will help build my capacity and enhance my understanding of issues to enable me undertake effective advocacy. Certainly, the skills gained will help the Church and the nation greatly".
CCJP is an advocacy and governance arm of ECM which has structures in all the eight dioceses of the Catholic Church in Malawi.
∽End∽
By Prince Henderson-ECM Communications Officer