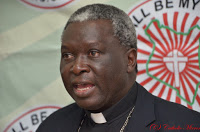 KENYA: Catholic Bishops invite the Faithful to join them in Novena Prayer for Peaceful Elections
AMECEA NEWS
July 28, 2017,
The Catholic Church in Kenya is planning to do a Novena Prayer throughout the whole country starting from 30th, July, 2017 to 7th, August, 2017 for peaceful forthcoming general elections, which are scheduled for 8th, August, 2017.
According to the Chairman of the Kenya Conference of Catholic Bishops (KCCB), Rt. Rev. Philip Anyolo, the Catholic Church is beseeching God to take charge of the whole process of Elections.
Bishop Anyolo who spoke during a press conference at Kenya Catholic Secretariat in Nairobi on Friday 28th, August, 2017 called upon all Kenyans to seize the opportunity and exercise their constitutional right by electing leaders of integrity.
"The clarion call has been to have just, fair, peaceful and credible elections. We need to create a peaceful environment, to demonstrate our patriotism for our wonderful Country, and ensure that all parts of Kenya are in peace," he said.
Bishop Anyolo who is the Local Ordinary for the Diocese of Homabay added that the Bishops have noted with appreciation, the relatively peaceful manner in which campaigns have been conducted and urged all the candidates to continue conducting themselves with decorum and sobriety in the remaining stretch of the campaigns, in order to achieve cohesion and National integration.
"We appeal to the Youth to restrain themselves from violence and instead be the agents of peace. We exhort them to uphold to the culture of peace and engage in activities of peace-building," he said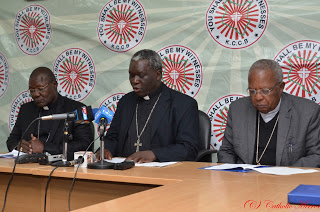 The Bishops further appealed to the entire country to accord the Independent Electoral and Boundary Commission (IEBC) all the support it needs to discharge its constitutional mandate while at the same time asked IEBC to see to it that they secure just, fair, transparent, credible and peaceful elections.
The Bishops said that they are planning to work closely with all the election observation groups, and all agencies and non-State actors involved in the electoral process while imploring the media to remain objective in helping to create a peaceful environment and promotion of a culture of justice, peace and reconciliation.
They invited all faithful in their respective dioceses and all people of good will to join in the Novena Prayers for the country.  According to the Catholic Website of Pray More Novenas, the word novena is taken from "novem," the Latin word for nine. A novena is made up of nine days of prayer and meditation usually to ask God for special prayer requests or petitions.
∽End∽
By Pamela Adinda, AMECEA Online News