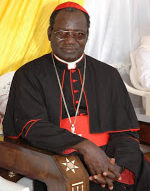 TANZANIA: Cardinal Pengo Celebrates 25 years of Pastoral Service in Dar es Salaam
AMECEA NEWS
July 21, 2017,
The Archbishop of Dar es Salaam His Eminence Polycarp Cardinal Pengo is expected to celebrate silver jubilee as Ordinary of Dar es Salaam on 22nd, July, 2017 at St Joseph Cathedral, Dar es Salaam.
According to the Executive Secretary of the Archdiocese Rev. Fr. Aidan Mubezi, the celebration is to be attended by some government officials, Priests, Religious and Lay faithful from the Archdiocese and beyond.
Speaking to AMECEA Online News, the Auxiliary Bishop of Dar es Salaam, Rt. Rev. Euzebius Nzigilwa said, "We are celebrating his service in our diocese by thanking God for the gift of Cardinal Pengo, for his spirit of loving and caring for the flock entrusted to him as a good shepherd." adding "We also thank God for the protection over him especially the gift of life and energy to serve His people.
Bishop Nzigilwa said that, in the years he has worked with Archbishop Pengo, he has learnt a lot. "I admire his sense of responsibility and self-giving to his flock entrusted under his care and even beyond." Said Bishop Nzigilwa.
Cardinal Pengo was appointed as ordinary of Dar es Salaam on 22nd, July, 1992 taking over from the late H.E. Laurent Cardinal Rugambwa, the first African Cardinal.
∽End∽
By Sarah Pelaji, Dar Es Salaam