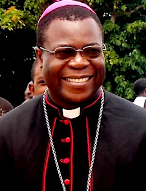 ZAMBIA: Bishop Chisanga lauds women for special calling of being primary Missionaries
AMECEA NEWS
July 7, 2017,
The Zambia Conference of Catholic Bishops (ZCCB), Director for the Religious Rt. Rev. Patrick Chisanga, OFM Conv says the role of women in the accomplishment of the divine will for the salvation of humankind cannot be overemphasized.
In a reflection on the Mansa Diocese pastoral theme: Ba Minshioni ba Lelo Nifwe (We are the Missionaries of Today), published in the Diocese's Newsletter, Bishop Chisanga paid special tribute to mothers for their special calling of being the true primary missionaries.
Mansa Bishop acknowledged that the women reach out with the first touch of God's love and nurturance upon people's entry into this world, encouraging women not to neglect the honour God has bestowed upon them and to emulate the blessed Mother of the Saviour and the first women disciples.
"You women are naturally the first catechisers who communicate faith and morals to us from the earliest stages of our lives. Do not neglect this singular honour God has bestowed upon you, especially through the blessed mother of our Saviour as well as those first witnesses of the empty tomb and missionaries of the Good News." He said.
He added that, the Church and society in general will continue to look up to women for joyful tidings that rekindle hope, especially in these troubled times of economic hardships, general moral degeneration, injustice and religious, ethnic, political and gender violence.
However, the Mansa Diocese ordinary noted that the missionary mandate is not limited to women alone adding that, the Good News of the victory of good over evil, light over darkness and life over death in the risen Lord is such a dynamic reality that every recipient of it is moved to immediately reach out and share with another.
"If today you hear his voice do not harden your heart (Ps 94:8) and selfishly bury it within yourself. Move promptly and, in great haste, joyfully share it with others. It is time to flood our conversations and the whole media with the news that gives hope and life." He said.
∽End∽
By Mwenya Mukuka