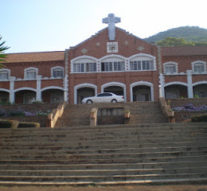 MALAWI: Kachebere Seminary re-opens in September
AMECEA NEWS
July 7, 2017,
The Episcopal Conference of Malawi (ECM) has resolved to re- open Kachebere Major Seminary which was closed some months ago due to inadequate formators and financial constraints.
The conference which is an umbrella body of all the Bishops from all the eight Catholic Dioceses in Malawi also agreed to build a constituent college of Catholic University in Lilongwe.
According to the resolutions report released after the second ordinary ECM plenary meeting held at the Catholic Secretariat concerning seminary and the Catholic University of Malawi matters, the Bishops agreed to re-open the seminary and according to the schedule, some seminarians will report at the seminary on 2nd, September, 2017, while others will report on 24th, February, 2018 according to their levels of study.
"Since the Seminary cannot accommodate both new and old students at the same time, the Bishops agreed on a schedule of academic activities of 2017/2018 academic year." Read part of the report signed by the Secretary General of ECM, Fr. Henry Saindi.
The Bishops also raised the school fees at the seminary from MK40,000 per term per seminarian to MK100,000 per term.
Concerning the management and development of the Catholic University of Malawi, the Bishops agreed to build a constituent college on Likuni Parish grounds.
"As proposed by the University council, the constituent college shall be built on the grounds of Likuni Parish of the Archdiocese of Lilongwe. The college shall operate hand-in-hand with the Lilongwe Archdiocese's Likuni Hospital which shall be required to be upgraded to the status of a teaching hospital." Read the report.
The Bishops appointed Monsignor Denis Chitete, Vicar General of Karonga diocese as a Lecturer at Kachebere seminary and Fr. Enock Gwengweya as the General Spiritual Director.
The second plenary of the Bishops was held from 26th June to 30th June 2017.
∽End∽
By: Stella Zulu