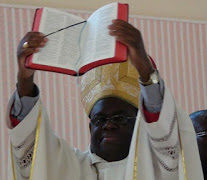 ZAMBIA: Bishop Kasonde launches locally translated Catholic Bible
AMECEA NEWS
June 30, 2017,
Catholic Diocese of Solwezi Bishop, Rt. Rev. Charles Kasonde on Saturday, 24th, June, 2017 launched and commissioned the locally translated Catholic Bible in the three official languages namely; Kaonde, Lunda and Luvale which are widely spoken in the diocese with the call on Christians to make the Word of God the basis of their Christians lives.
Bishop Kasonde points out in his Acknowledgement that appeared in the translated Bibles that, since the inception of the Catholic Church as an Apostolic prefecture in 1959 and later on its elevation as a Diocese covering the political and geographical delimitation as North Western Province, the Catholic Church of Solwezi has been using the Protestant Bibles for its pastoral and liturgical needs.
In his Homily during the celebration of the Holy Mass at St. Daniel's Cathedral Parish, Bishop Kasonde called on the faithful to deepen the Word of God by making it the basis of their Christian lives. "My dear people, in order to proclaim the Gospel of Jesus Christ you need to have a basis and this basis is what we are launching and commissioning today, the Word of God in your lives", He said.
Bishop Kasonde also said that Christians have to share and experience the Word of God in their daily interactions. "The Word of God have to be deepened in your lives by experiencing it and later sharing its goodness with others by letting the Word of God radiate its goodness in the society, homes and hearts." Bishop Kasonde explained
He expressed gratitude to God and South Koreans who made it possible for the translation of the Word of God into local languages through collaboration and cooperation. "We need to be grateful to God who has made us reach this far in having the Word of God translated in our mother tongues. We are also grateful to our brothers and sisters in South Korea who collaborated and cooperated for the generation of the Word of God that is customanised in our homes, families and in our times", concluded Bishop Kasonde.
During the Holy Mass attended by Priests, Religious women and men, Seminarians and the Lay Faithful, the newly printed Bibles was presented to the who later enthroned the Bible by reciting the prayer in accompaniment of Christians.
He also had a chance to present free Bibles to the oldest and youngest faithful present in the cathedral.
On 21st, June, 2017, Bishop Kasonde witnessed the offloading of Bibles from
Dar es Salaam Tanzania where the books had been printed.
~End~
By Mwenya Mukuka, Communications Officer ZCCB