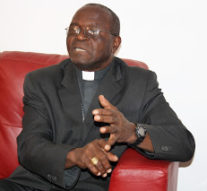 ZAMBIA: 'The Church in Africa must start Generating Own Resources for Evangelisation'- ZCCB President
AMECEA NEWS
June 16, 2017,
President of the Zambia Conference of Catholic Bishops (ZCCB), Most Rev. Telesphore George Mpundu says the Church in Africa must do all it can to be a self-financially supporting.
Citing Saint John Paul II's message Ecclesia in Africa on the Church in Africa to be financially self-supporting, His Grace noted that the Church in Africa has not done much in making itself self-reliant.
Archbishop Mpundu said the Church in Africa must set up a strategy of weaning itself off from the universal solidarity fund.
"We have become aware in the last decades or two, but a lot remains in talking. We must sit down and map out a strategy that says in the next coming 10 to 15 years this is our target. We want to be weaned off from this universal solidarity we run to in order to get funding for our programmes and projects, for evangelisation, for the expansion of the Church and so on and so forth. This is critical." He said.
He also said that the Church in Africa must play its rightful role in the universal evangelisation by contributing financially to the work of the Church elsewhere where the work of God is still very remote.
Responding to the question on what his message was to the Catholic Church in Zambia ahead of the Church's celebration of 125 years, slated for 15th, July, 2017 in Lusaka, Archbishop Mpundu said that, for the Church to be mature there is need for local generation of all resources needed for evangelisation.
"We are going to become a mature Church here, if we start generating all resources needed for evangelisation locally." He said.
Archbishop Mpundu further appealed to the lay faithful to take an active role in the works of the Church unlike leaving it to Bishops, Priests and the Religious.
∽End∽
By Mwenya Mukuka, Communications Officer ZCCB