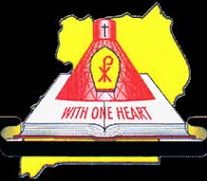 UGANDA: Over 2.5 million of pilgrims throng Namugongo for 2017 Uganda Martyrs Day celebration
AMECEA NEWS
June 16, 2017,
very June 3, Catholic faithful from across the world usually gather at Namugongo Catholic Martyrs Shrine to celebrate the Uganda Martyrs Day in honour of the 22 Catholic Martyrs that were killed on the orders of Mwanga II the Kabaka (King) of Buganda between 1885 and 1887.
However, this year's celebration attracted more pilgrims both locally and internationally than the previous editions. According to organizers, although they had anticipated receiving about 1.5 million of pilgrims, over 2.5 million attended the celebration.
"This year's celebration was a milestone in terms of pilgrims' attendance. The magnitude of people at Namugongo Shrine was massive until items like drinks, food and a number of consumables reportedly ran out of stock around the shrines." Said one of the organizers.
Pilgrims came from different countries including Kenya, Rwanda, Tanzania, Malawi, Zambia, Nigeria, Democratic Republic of Congo, Burundi and South Sudan besides hosts Uganda. Others came from Italy, USA, Canada, Mexico and India. According to the pilgrims' desk statistics, Tanzania had the largest contingent of registered pilgrims with over 2500, while Kenyan had at least 2000 and 600 came from Rwanda and more from other countries.
The majority of these pilgrims came to the shrine on foot as a demonstration of their faith while others used various means of transport to reach the Shrine. Robert Macharia from the Diocese of Nakuru in Kenya is one of the pilgrims who trekked for days to reach Namugongo Catholic Shrine.
"This is not my first time to walk from Kenya to Namugongo. I have been coming here since 2015 on foot together with my fellow parishioners. We usually converge at a place called Mabira Forest just a few meters from Jinja town with other groups of pilgrims who also walk from Kenya. At Mabira, we recite the rosary and pray for one of our fellow pilgrim from Kenya who was killed there some years back in a car accident on her way to Namugongo." He said.
Macharia added that he would like the Uganda Martyrs to pray for his country for a peaceful general election that is due on 8th, August, 2017.
For the first time, this year's celebration also featured an award called 'pilgrim of the year' where one of the pilgrims from the Diocese of Lira won an air ticket to visit the Vatican City in Rome.
The Diocese of Hoima led the 2017 Uganda Martyrs Day celebration under the theme, 'Stand firm in the faith that you have been taught, Colossians 2:7'.
In his homily, the Bishop of Hoima Rt. Rev. Vincent Kirabo called upon the pilgrims to build their faith just like the Uganda Martyrs who exhibited a high degree of discipleship to God.
"Christians should live a true virtue of Christianity free from corruption, hypocrisy, irresponsible sense of leadership and anger among other actions that abuse God." Bishop Kirabo said.
In his speech, The Chairman of the Uganda Episcopal Conference and Archbishop of Gulu, Most Rev. John Baptist Odama urged the pilgrims to pray for the soul of the 23-year-old pilgrim from Lira Diocese who died on her way to Namugongo while walking. The 23 year-old was three months' expectant at the time of her death.
The celebration was graced by the Vice President of Uganda, His Excellency Edward Sekandi, who was the Chief Pilgrim. There were also other dignitaries including the former First Lady of Tanzania, Mama Maria Magige Nyerere, wife of the late President Julius Nyerere and the chief Justice of Uganda, Bart Magunda Katureebe among others.
∽End∽
By Jacinta W. Odongo, Media Officer, Uganda Episcopal Conference