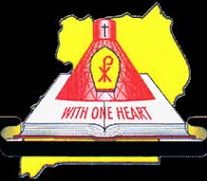 UGANDA: Catholic Church begins beatification process of pioneer Catholic Missionaries in Uganda
AMECEA NEWS
June 16, 2017,
The Catholic Church in Uganda has begun the beatification process of the first Catholic Missionaries of Africa also known as the White Fathers, to arrive in the country.
Speaking during the 2017 Uganda Martyrs Day celebration held at Namugongo Catholic Shrine on June 3, Bishop of Hoima Rt. Rev Vincent Kirabo revealed that the beatification process could see Fr. Siméon Lourdel and Brother Amans Delmas become the next saints, adding to the 22 Uganda Catholic Martyrs killed by Mwanga II, the Kabaka (King) of Buganda.
"We are happy to inform you that the two missionaries, Father Simeon Lourdel 'Mapeera' and Brother Delmas Amans were officially presented in 2016 to mother church (Rome) asking to start the process of their beatification and eventual canonization," Bishop Kirabo said during his homily.
Bishop Kirabo added that the two missionaries were instrumental in mentoring the Uganda Martyrs killed by Mwanga II between 31st, January, 1885 and 27th, January, 1887.
In his speech during the Uganda Martyrs celebration, Kampala Archbishop Most Rev. Cyprian Kizito Lwanga urged the faithful to pray ardently through the intercession of Fr. Lourdel and Bro. Amans, calling upon them to also report any miracle, favour or sign that they receive by praying through these Servants of God, to the tribunal officials.
Since 1987, the Archdiocese of Kampala, through His Eminence the late Emmanuel Cardinal Kiwanuka Nsubuga, initiated the process of opening up the inquiry in the life of Fr. Lourdel 'Mapeera' and later on that of Bro. Amans, in view of their beatification and canonisation.
According to Fr. Richard Nnyombi, of the Missionary of Africa, Rome gave the green light (Nihil Obstat) to go ahead with the inquiry for the two 'Servants of God'.
"A lot has already been done and many people have witnessed to having received favours and miracles through their intercessions. However, according to the rules and regulations of conducting this inquiry, there are specific procedures which have to be followed meticulously." Fr. Nyombi wrote in his article about 'Inquiry for the Cause of beatification of Fr. Lourdel and Bro. Amans' that was published in the Uganda Episcopal Conference (UEC) New Contact news bulletin of October, 2016.
The first audience of the beatification process of Father Lourdel and Brother Amans was held on November 6, 2016 at Lubaga Cathedral presided by the Archbishop of Kampala, His Grace, Dr. Cyprian Kizito Lwanga.
Lubaga Cathedral is also the very place where Kabaka Muteesa I said 'YES' in response to the request of the two missionaries, to allow them and their confreres to settle in his Kingdom to teach the Catholic Faith.
The two Catholic missionaries, who were born in France, landed at Entebbe, Uganda on 17th, February, 1879. Father Lourdel died on 12th, May, 1890 at Rubaga while Brother Amanas died on January 19, 1895 at Bagamoyo in Tanzania where he was buried.
∽End∽
By Jacinta W. Odongo