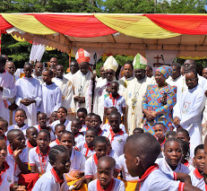 TANZANIA: Zanzibar Diocese Hosts PMC Children Conference
AMECEA NEWS
June 16, 2017,
More than 2,000 children members of the Pontifical Society of Holy Childhood (PMC) from nine dioceses (Central and Eastern Zone) in Tanzania attended the Conference in Zanzibar Island to create a new wave of missionary passion in the Island.
Speaking during the Holy Mass to mark the inauguration of the conference, Bishop of Zanzibar Rt. Rev Augustine Shao said that, the presence of a big number of children in Zanzibar is a sign that new evangelization is practical in the Diocese and consequently Christianity shall prevail.
Bishop Shao also said that the Missionary Childhood Association in the country has made a major and sustained contributions to promote awareness of Catholics' missionary obligation, as witnesses to love for Christ and the Gospel.
"You have brought to us good news and your presence is a testimony that faith in Christ is alive, not dead. It gives us hope that as you have inherited this faith from your parents, so you will surrender to your generations. So I ask you, dear children keep your faith alive." He said.
He added that, the conference was meant to be more than just meeting physical and social needs, but also sharing the spiritual wealth of the Gospel message and God's salvation revealing that, major difference between Christianity and other religions is seen in forgiveness without end urging the faithful to love their enemies relentlessly.
"The God we worship is the God of forgiveness and love, the reason why every time we are ready to forgive. Our God is not a God of punishment and each person is given the ability to recognize love hence we must forgive tirelessly." He added.
Speaking at the same function, The Bishop of Morogoro Rt. Rev Telesphor Mkude said that, the Church is organizing conferences for children to ensure that formation begin early in children urging the faithful not to delay in passing on good values to the younger generation.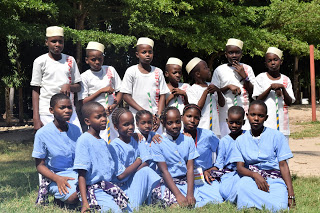 A representative of the Revolutionary Government of Zanzibar and the Minister of Labor, Empowerment, Elders, Youth, Women and Children, Modelene Castico who attended the conference also commended the Catholic Church in Tanzania for taking a major role in building an ethical and responsible society by investing in the children.
She also said that it is through such conferences that children are taught values of peace and love that later leads to building of a better nation.
"When you come together you normally pray together, but also you are building up a child with good morals who is expected to be a responsible and a respectable member of society." She added.
∽End∽
By Pascal Mwanache, Kiongozi News TEC