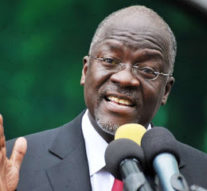 TANZANIA: Catholic Bishops laud President Magufuli for fixing mining sector scandals
AMECEA NEWS
June 16, 2017,
Catholic Bishops in the Tanzania have commended the action taken by His Excellency President John Pombe Magufuli in dealing with the fraud committed in the Country's mining sector.   A cross-section of the Bishops interviewed expressed their support to the President as they were asking lawmakers and citizens at large to put aside their political ideologies and to put the country's interest first.
The Bishops' reaction came after the tabling of the report by the probe team (which comprised of economists and legal experts) formed to establish the extent and value of mineral concentrates exported since 1998. The report findings established there has been loss of trillions of Tanzanian shillings (Billions of USD) as government revenues from mineral sand exports by mining companies operating in the Country.
Bishop of Bunda Rt. Rev. Renatus Nkwande said that, for many years Tanzanians have been complaining about poor management of national resources especially on extractive industry. "The president has shown his will to liberate the nation from the squandering of our resources, we should join our hands with him for the sake of patriotism and nationalism spirit," Bishop Nkwande said.
"My advice to him is that as Accacia mining company wants a discussion with the government, it is good that the government get experts with the wisdom, knowledge, and sense of the fear of God."
Meanwhile, Bishop of Rulenge-Ngara Rt. Rev Severine Niwemugizi said that the reason behind the mining sector problems is poor or lack of effective legislation on contracts. "International laws protect the interests of the investor and an investor is happy with enacted laws that protect them," he said adding that, "We must change our laws to those which have a long term effect in protecting our resources. We have been exploited a great deal."
He therefore congratulated President Magufuli for the courage to fight the impunity and his patriotic spirit for the country especially against the exploitation of the resources in the extractive industry.
Bishop Niwemugizi further asked the Parliament to cherish the same patriotic spirit for the Country and adhere to political maturity in enacting new laws that will protect the interest of the country and not their interests.
∽End∽
By Sarah Pelaji, Kiongozi Newspaper, TEC