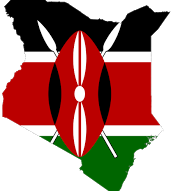 KENYA: Doctors applauded for a successful operation of conjoined twins
AMECEA NEWS
June 16, 2017,
Kenyan Doctors have been commended over heroic and professional standard that led to the successful operation of conjoined twins who left Kenyatta National Hospital (KNH) on Thursday this week after staying in the hospital for three years.
A cross section of people interviewed by AMECEA Online News said that the successful operation is a testimony of the vast improvement in the quality and capacity of Kenyan Medical Specialists who can handle complicated human health challenges.
The team comprised of a multidisciplinary team of over fifty specialists including paediatric surgeons, neurosurgeons, plastic and reconstructive surgeons, anaesthetists and nursing teams performed the delicate and historic surgery on the two lovely girls named Blessings and Favour Mukiri for 23-hours on 1st, November, 2016 at Kenyatta National Hospital.
The two conjoined twins, born on September 4, 2014 in Meru (about 250 km from Nairobi) shared some abdomen organs something, which led them to be transferred to KNH the following day.
After more than 24 months to allow the development of key organs and also enable them gain appropriate muscles to withstand the surgery, monitoring, consultations and planning, the two were wheeled into the hospital's theatre where a medical team of 58 made history in Sub-Saharan Africa by separating them.
The girls were separated in a 23-hour operation that started on the morning of November 1, 2016 to dawn on November 2. The two brave girls emerged from surgery separated but still sharing a fighting spirit.
Thursday of this week, the two girls whose surgery captivated the entire country took their first journey home. Their mother, Caroline Mukiri, called it the happiest day of her life, one that she had been waiting for, for the past 33 months.
Dr Joel Lesan, a paediatric surgeon, who took part in the separation, assured the single mother that the hospital would continue monitoring the progress of the two girls. However, he expressed confidence that Mukiri had learnt enough about handling the girls.
Doctors said the two might need to make some trips back to KNH in future for check-up.
Source: AMECEA Online News and Online News in Kenya
By AMECEA Online Correspondent