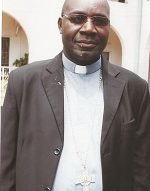 ZAMBIA: Catholic Bishop Calls for Unity, Tolerance and Peace among the Citizens
AMECEA NEWS
June 9, 2017,
Rt. Rev. Clement Mulenga, SDB, Bishop of Kabwe Diocese has called on members of the public to embark on a journey of promoting peace, resilience and unity in the country.
Bishop Mulenga was speaking during a church service to celebrate the Pentecost day at Cathedral of the Heart of the Child Jesus in Kabwe on Sunday 4th June, 2017.
He said that life is too short to concentrate on confusion and misunderstandings.
He pointed out that there was need for the church and members of the public to be bold and stand for the truth while striving to creating harmony in society.
Bishop Mulenga said it was disappointing that in the present day there were still hypocrites who pretended to be peaceful men and women while they are in the church but immediately when they leave the church compounds they continue with their style of promoting hatred.
"On the day of Pentecost we hear how the disciples, Mary and other associates of Jesus had locked themselves in fear of the people but when the Holy Spirit descended upon them the fear escaped and the disciples started speaking in languages that the people around would hear," he said adding "So we do not have to be afraid but seek the Holy Spirit and be bold enough to stand for the truth," he said.
Bishop Mulenga challenged congregants to find those ones perceived as enemies and reconcile with them before God finally calls them in death.
∽End∽
By Passy Haachizo