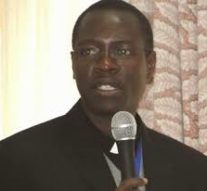 TANZANIA: TEC Sec General urges the Government to come up with a long term strategy on Environmental Protection
AMECEA NEWS
June 9, 2017,
Secretary General of Tanzania Episcopal Conference (TEC), Very Rev Fr. Raymond Saba, has urged government officials to cooperate with other environmental Organizations to come up with 100 years' strategy for environmental protection instead of five or ten years' strategy.
Fr. Saba made the remarks at the National Environmental Congress during the celebrations to mark the World Environment Day. The congress was held at Butiama in Mara Region from 1st to 4th June in honor of the First President of Tanzania Julius Nyerere, who was an activist on environment.
"100 years' strategy will help Tanzanians of all sectors to put operational and monitoring plans for the natural vegetation for a long period of time," Fr. Saba said.
Fr Saba said, "If there had been a strategic plan for the conservation and care for the environment, which stretches for 100 years, we could be very successful, as opposed to the policy of five years which is non-committal and that is the reason why we are still here with a lot of environmental challenges and problem. It is a global challenge because of poor management of environment."
He further said that environmental conservation is not an issue to be addressed by one person who comes up with his/her policy for five or ten years,  rather it is an issue that should be all inclusive and has to be addressed even at schools from primary to university level so that children can develop positive behaviors towards environment conservation .
"From childhood human beings should be taught about the important of environment, respect the environment and conserve it for future generations," Fr. Saba advised adding that there is need to change people's behavior instead of only talking about climate change.
∽End∽
By Sarah Pelaji, TEC