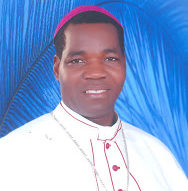 SOUTH SUDAN: SCBC appeals to South Sudanese to take Pope's visit cancellation in Prayer
AMECEA NEWS
June 9, 2017,
The cancellation of the visit of Pope Francis to South Sudan should be taken in respect and prayer, President of Sudan Catholic Bishops' Conference (SCBC) appeals to South Sudanese.
Rt. Rev. Eduardo Hiiboro Kussala said in a statement on Tuesday June 6th that Pope Francis is very particularly about the welfare and the sufferings of the people in the country as the world is showing compassion and love to the marginalized, those who are suffered, as well as those who caused suffering and thus, seek redemption.
According to Bishop Hiiboro, the Pontiff continues to remind people of South Sudan of the costs of war, particularly on the powerless and urges all of them to work for peace.
"Surely the visit of the Holy Father would familiarize the nation to the whole world," said the Bishop adding that it would have uplifted the faith, raise the expectation of the people, unify them and restore peace in the country.
The President of SCBC prays that the grace of our Lord Jesus Christ continue to inspire, motivate and enlighten people to promote His Kingdom in South Sudan.
"Let us continue to pray for the Holy Father in our daily prayers," he urged all South Sudanese.
∽End∽
By CRN