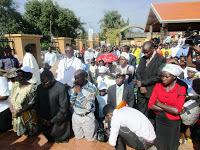 UGANDA: Hundreds to participate in 2nd 'Walk of Faith' pilgrimage ahead of 2017 Uganda Martyrs celebration
AMECEA NEWS
May 26, 2017,
With only eight days left to the 2017 Uganda Martyrs Day celebration, hundreds of pilgrims from across the country have confirmed participation in the 10 km 'Walk of Faith' pilgrimage slated for Saturday 27, May.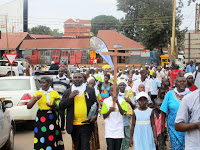 This is the second 'Walk of Faith pilgrimage' since it was introduced as part of the Uganda Martyrs Day celebrations. The one-day pilgrimage will start from Munyonyo Martyrs Shrine and conclude at St. Matia Mulumba Parish in Old Kampala, where St. Matia Mulumba (one of the Catholic martyrs) was killed.
Munyonyo is the place where King Mwanga II made the decision to execute the martyrs because of their strong faith in Jesus Christ. Traditions hold that the first three Martyrs, namely, St. Denis Ssebuggwawo, St. Andrew Kaggwa and St. Pontiano Ngondwe were killed at Munyonyo on May 26, 1886. It is also the place where majority of the martyrs started their two-day painful but inspiring journey to Namugongo to face their death. However, some were killed along the way, while others were burned alive in Namugongo on June 3.
Speaking during a press conference that was held at the Uganda Catholic Secretariat, Rt. Rev Vincent Kirabo-Bishop of Hoima, said that the aim of the spiritual pilgrimage is to enable Christians experience the martyrs' pain and their last moments on earth in a commemorative walk.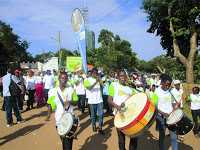 "This walk is part of the spiritual preparation for this year's celebration due June 3 at Namugongo Catholic Shrine," Bishop Kirabo said adding "It is also part of the continuous grand plan to organize such a pilgrimage every year which signifies the official launch of the pilgrimage to Namugongo by people from all over the world."
During the walk, the pilgrims will make two stopovers at strategic places for a moment of prayer, before proceeding to their final destination at St. Matia Mulumba Parish where they will have a Eucharistic celebration of Holy Mass, presided over by Bishop Kirabo.
Hoima Diocese which animates this year's celebration has organized the pilgrimage in partnership with Uganda Episcopal Conference and Uganda Tourism Board.Meanwhile, Catholic faithful across the country have begun a novena in honor of the Martyrs. The novena started on Thursday May 25 and will conclude on June 2, just a day prior to the actual celebration.
∽End∽
By Jacinta W. Odongo, Media Officer-Uganda Episcopal Conference