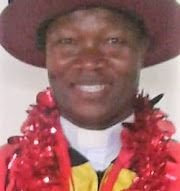 UGANDA: UEC appoints new Pastoral Coordinator
AMECEA NEWS
April 28, 2017,
The Uganda Episcopal Conference (UEC) has appointed Rev. Fr. John Baptist Kaganda as the new Pastoral Coordinator, with effect from April 15.
Fr. John Baptist succeeds Fr. Edward Ssemogerere who left UEC last month (March, 2016) after serving as Pastoral Coordinator for several years. His appointment was announced Monday on April 24 during the weekly Mass at the Uganda Catholic Secretariat by the UEC Secretary General, Msgr. John Baptist Kauta.
"We have seen great progress in the UEC in terms of growth across our various departments. We are confident that Fr. John Baptist is the right person to ensure that Pastoral department continues the positive development. He has good education background and vast experience in pastoral work and that is why he was successfully recruited," Msgr said.
He holds a Doctorate of Philosophy (PhD) in Dogmatic Theology and Master of Arts degree in Dogmatic Theology both attained from Catholic University of Eastern Africa in Nairobi, Kenya. He was ordained priest on June 20, 1992 and immediately appointed as Chaplain and Teacher at St. Charles Lwanga Senior School in Masaka, which was his first job.
With his vast experience and knowledge in Pastoral work, he believes his new job will offer him great opportunities.
"I am happy to work for the UEC. I feel this is an opportunity for me make a humble contribution towards the Catholic Church in Uganda. I believe with team work I will be able to succeed," he said.